First Yewtree suspect David Smith 'took own life'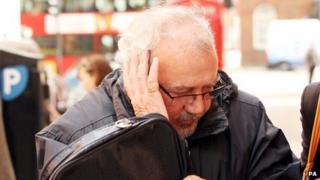 The first person to be charged as part of Operation Yewtree took his own life, a coroner has ruled.
David Smith, 67, from Lewisham, south-east London, was found dead in his flat last October after not attending court.
The coroner said Mr Smith, who has previously been described in court as a BBC driver, took a "fatal combination" of drugs and left a note by his bed.
Operation Yewtree was set up in the wake of the Jimmy Savile scandal to investigate historical cases of abuse.
Mr Smith faced two counts of indecent assault, two of indecency and one of a serious sexual offence all relating to a 12-year-old boy, between 1 June and 21 July 1984.
Senior coroner Dr Andrew Harris told the inquest at Southwark Coroner's Court that the cause of death was due to a fatal combination of opiates, morphine and codeine.
Prolific offender
David Smith was a prolific sex offender whose first conviction was in 1966. He had 22 convictions for sexual offences against young boys.
He was described in court last year as a former BBC driver but the BBC has said it has no record of him having worked for the corporation.
Yewtree is an inquiry into allegations of historical sexual abuse linked to the entertainment industry.
The operation has three strands. One concerns Savile's crimes exclusively, while a second strand relates to allegations against Savile and others.
The third strand concentrates on accusations that emerged as a result of the publicity surrounding Savile but which are unconnected to him.
David Smith was investigated under the third strand.