Russell Crowe meets archbishop to discuss Noah film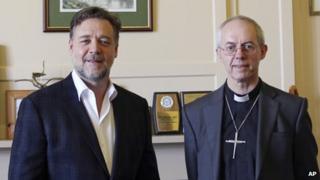 Hollywood actor Russell Crowe has paid a visit to the Archbishop of Canterbury in London.
The New Zealander held a "short private meeting" with The Most Reverend Justin Welby, Lambeth Palace said.
Mr Crowe is playing the title role in biblical drama Noah, which is currently topping the US Box Office.
His visit came after the London premiere of the film, and the two men discussed "faith and spirituality".
Afterwards, the archbishop tweeted: "Great visit from @russellcrowe, talked about Noah and his films.
"He spoke to as many people as possible, sense of humour, impressive."
On its website, Lambeth Palace, which tweeted a photograph of the two men together, said: "The Archbishop of Canterbury Justin Welby today met with actor Russell Crowe to discuss faith and spirituality."
Noah took $44m (£26.4m) in its first weekend in the United States.
Speaking about playing the lead role, Mr Crowe has said: "It has something for people of faith and people who don't have faith. It's an intense experience."