Pub hours extended for England World Cup matches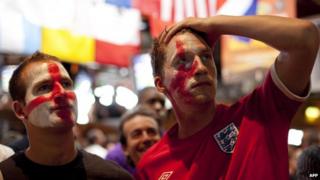 Licensing laws will be relaxed during the World Cup to allow pubs to stay open late during some England matches, the Home Office has said.
Pubs and bars will be allowed to open until 01:00 BST when England matches kick-off at 20:00 BST or later.
The decision follows a two-week public consultation.
The change of stance comes after the Home Office initially said it did not consider the World Cup of national importance.
The British Beer & Pub Association said it was "great news" for pubs across the country that "common sense prevailed".
Individual pubs are able apply for a one-off late licence at a cost of £21 but the industry says the national rule change will save pubs a total of £738,000.
The decision will affect England's opening game against Italy on Saturday 14 June due to kick off at 23:00 BST, the traditional closing time for many pubs.
It will also allow pubs to open late following the country's match against Uruguay on Thursday June 19 at 20:00BST.
In its response to the consultation the Home Office said: "The government believes that England playing in the World Cup is an occasion of exceptional national significance.
"Many people will wish to enjoy watching the matches in pubs and bars and experience the atmosphere of the occasion with fellow football fans, as demonstrated by the enthusiasm of the majority of those who responded to the consultation.
"The government has listened to the views received in response to the consultation and in discussion with partners has decided to proceed with the proposal to relax licensing hours nationally for England's World Cup matches."
Earlier this year it rejected a bid from publicans for hours to be extended during some of England's late matches.
The consultation was launched after David Cameron called for a rethink.
A spokesman for Downing Street said he believe the World Cup was a "major sporting event" in which there was "significant national interest".
Brigid Simmonds, British Beer and Pub Association chief executive, said: "It's really great news, which will put pubs at the heart of a great national event. I am particularly pleased that the government has really listened, and made sure that common sense prevailed, granting the full four hours after kick off for England games, as we had asked."
"I'd like to thank the hundreds in the pub trade who responded, making our views loud and clear."
Pubs wishing to stay open late for other matches throughout the tournament will be able to apply for individual licences.