Max Clifford: I was greedy for having affairs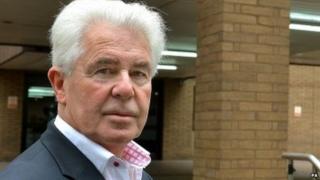 Max Clifford has told his trial he was "greedy" and "liked women" but was not interested in "silly little girls".
The publicist said he was "never frustrated" because he had a "loving relationship" with his wife, and several long-standing mistresses.
"I like women, is that a crime?" he asked Southwark Crown Court.
Mr Clifford, 70, from Hersham, Surrey, denies 11 counts of indecent assault, relating to seven alleged victims aged from 14 to 19, between 1966 and 1984.
'Guilty secret'
Under cross examination Mr Clifford told Southwark Crown Court: "I was very happy with my sex life and I didn't need to impress young girls to achieve any kind of sexual satisfaction or interest or stimulation.
"It has never been me, that's not the person I ever was. I happen to like women, yes sure, and I have had some wonderful relationships in my life. I like women, is that a crime?"
He added that he was "greedy" for having a wife, as well as having affairs, and said: "But I was never frustrated and never interested in silly little girls."
Mr Clifford was questioned about two female employees, who were 17 and 18 when they started working for him and with whom he went on to have affairs.
"I got to know [them] and the relationships developed naturally," he told the court.
Mr Clifford went on to deny suggestions he kept a letter sent by one of his accusers as a "trophy".
Asked if kept the letter as a "guilty secret", he said: "If I had a guilty secret about that letter I would have destroyed it and not showed it to my wife and daughter."
The letter was found by police in his bedside table.
'Nudity'
The PR guru also admitted he had at one time had topless women in his office as part of a practical joke.
Mr Clifford said there had been "various parts of nudity over 30 or 40 years" in his office, describing an incident where he and comedians Freddie Starr and Lennie Bennett arranged for several girls to be sitting topless in his office when a producer for Morecambe and Wise visited.
Mr Clifford also acknowledged he was involved in a bet - again with Freddie Starr and Lennie Bennett - in which he had to entice a female traffic warden to his office and take revealing photos of her with the promise of a possible television appearance.
The court heard a passage from his biography in which he said he was able to take topless photos of the woman.
He had described the bet as a "good game" and "so easy I played it several times".
The trial continues.