Government visa rules 'license domestic slavery'
By Divya Talwar and Catrin Nye
BBC Asian Network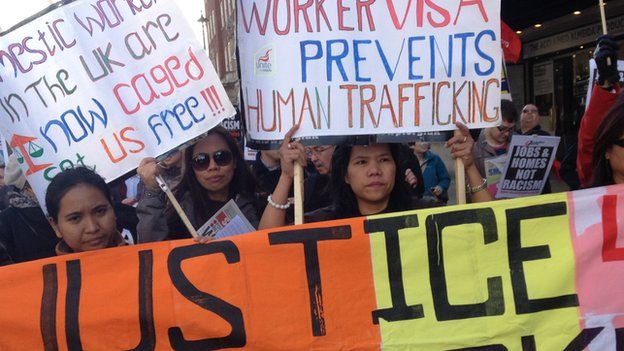 The government is "licensing modern slavery" with its visa rules for domestic workers, campaigners say.
Since April 2012 they have been tied to one employer upon entering the UK - meaning they cannot move jobs.
Charities say the rules must be reversed as they allow abusive employers to demand extremely long hours, and withhold pay and food.
The Home Office says domestic workers have "access to protections under employment laws".
About 15,000 domestic workers accompany foreign employers to the UK each year. But since 2012 they have been unable to renew their visas or change employer if things go wrong.
Andrew Boff, a Conservative member of the London Assembly who has written a report on human trafficking in London, said: "I don't think it intends to be, but it [the government] is actually licensing modern-day slavery."
Campaign group Human Rights Watch said it had found serious abuses of migrant workers by foreign employers in the UK.
"We have documented the forced labour of domestic workers; they have been made to work extremely long hours without breaks or days off, paid very little or not at all, psychologically abused and not provided with food," said Izza Leghtas, the author of a report shown to the BBC.
"The majority of those under the tied visa had their passport withheld by their employer."
Ms Leghtas added: "The government is failing to protect a group of workers who are extremely vulnerable to abuse due to the hidden nature of their work."
Among those affected is "Alia" who came to the UK as a maid with her Arab employers. She said her passport was taken from her, she was made to eat scraps of food and sleep in a cupboard.
"They promised me they were going to pay me more, but they didn't pay me. I started in morning at 06.00 until midnight. I didn't have any break and they never let me go out," she said.
"I feel I am a slave, they told me you have no right to be questioning us because you are just a housemaid," she recalled.
Alia eventually managed to escape, but by leaving her abusive employer she breached immigration rules and is now an illegal migrant. Her only option is deportation.
Kate Roberts, a community advocate for London-based charity Kalayaan, which helps migrant domestic workers, said: "The visa has definitely resulted in employers exercising more control over workers. We believe it facilitates and institutionalises the domestic servitude of workers."
The charity said it had evidence that migrant workers were facing greater levels of abuse in the two years since the rules changed.
Of the workers who contacted them, 62% of domestic workers who came on the tied visa were paid no salary at all, compared with 14% on the original visa; 96% were not allowed out of the house unsupervised, compared with 44% under the old system; and 74% faced psychological abuse, compared with 28%.
The charity said it was also concerned about a significant drop in the number of domestic workers asking for help. Kalayaan said it usually saw 300 new domestic workers each year, but since the new rules came into effect they had only seen 91 workers, despite the numbers entering the country remaining stable.
They fear many are either staying in abusive homes or, if they are able to escape, they are going underground into hiding, at risk of being trafficked for further exploitation.
The Home Office says the new rules were introduced to ensure domestic workers only stayed in the country temporarily.
In a statement, a spokesman said: "Rather than increase the risk of abuse, the measure was designed to stop abusive relationships between employers and their domestic workers.
"Any person known to have previously abused a worker will not able to bring employees to the UK.
"On applying for their visa, they [overseas domestic workers] are given a leaflet outlining what help they are entitled to."
A modern slavery bill is currently going through parliament and Theresa May has said that tackling slavery is a personal priority.
You can hear the full radio documentary Britain's Modern Slaves on BBC Asian Network on 31 March at 17.00 BST or listen back on BBC iPlayer.
Related Internet Links
The BBC is not responsible for the content of external sites.