'Joint enterprise' prosecution figures released
By Clive Coleman
Legal correspondent, BBC News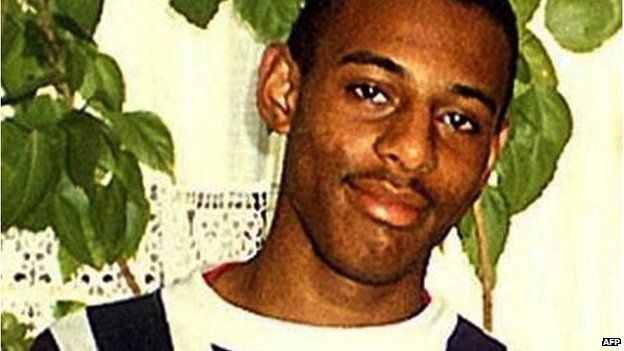 More than 4,500 people were prosecuted for homicides involving two or more defendants over the past eight years, a report has said.
The Bureau of Investigative Journalism study is the first statistical analysis of "joint enterprise" homicide cases.
The law allows for several people to be charged with the same offence, even though they may have played very different roles in the crime.
Former Lord Chief Justice Lord Phillips told the BIJ it could cause injustice.
Many legal experts questioned by the BIJ expressed concern about its use.
Prosecutors said joint enterprise was only used against those "participating in the crime".
Joint enterprise is a powerful prosecuting tool applied so that more than one person - often a group - can be charged with the same crime if it can be proved that they were in some way "in it together".
It applies even though the suspects may have played different parts in the alleged offence.
However, the doctrine is controversial because many believe it allows those who are too remote from the crime to be prosecuted.
Until now there have been no statistics collected on the use of joint enterprise, particularly in homicide cases.
The figures, obtained by the BIJ using Freedom of Information requests, showed that between 2005 and 2013 there were 4,590 prosecutions for homicide with two or more defendants.
"That was equivalent to 44% of all homicide prosecutions in those years," the report said.
Prosecutions for homicides involving two or more defendants meet the Crown Prosecution Service's definition of joint enterprise.
In the same period, 1,853 people were prosecuted for homicides when the charge involved four or more defendants - which a broader group of experts agreed must have relied on joint enterprise.
This figure represented almost a fifth of all homicide prosecutions brought to court during this period, the study said.
It added that when more defendants were involved in a prosecution, there was a greater chance of an acquittal or the prosecution "offering no evidence" - meaning the charge was dropped at the trial stage.
"This suggests that in multiple prosecutions some people are being swept up into serious trials who should not be there," it said.
'Automatic life sentence'
Joint enterprise can apply to all crimes, but recently it has been used as a highly effective way to prosecute homicide - especially in cases involving gangs of young men.
It was used to convict David Norris and Gary Dobson for the 1993 murder of Stephen Lawrence.
In another case in 2012, 19-year-old Malakai McKenzie was shot in the head in a car outside a pub in Nottingham, after a series of tit-for-tat gang attacks.
CCTV showed the shooter and others approaching the car before four shots were fired.
Ijah Lavelle-Moore was one of three men initially charged with the murder. There was no CCTV or forensic evidence linking him to the crime, and the judge later ordered the jury to acquit him.
In its report, the BIJ also analysed the views of legal experts, reporting that 37 of 45 of those questioned had expressed concern about the use of joint enterprise.
Some 41 of respondents found the issue of establishing the accused's criminal intent the most worrying aspect of the doctrine, the study said.
Bob Sullivan, professor of criminal law at Sussex University, told the BIJ that if a group fight broke out and one young man "doesn't get involved in the fight but he stays there in support of his mates" then he could end up being convicted of murder - "if the prosecution can prove that he foresaw the slight risk of someone being seriously harmed".
"That means an automatic life sentence, and if a knife is used, a minimum term of 25 years," he said.
Lord Phillips told the BIJ that joint enterprise needed reform as it was "capable of producing injustice, undoubtedly".
But Director of Public Prosecutions Alison Saunders said joint enterprise was a vital prosecuting tool.
She said: "In some cases it's not very clear because of the circumstances of the case exactly who did what - but if we know that everyone was participating in the crime then it helps us to be able to prosecute them, and to put those facts before the court."
"If you're just standing there, we won't prosecute you," she added.
Related Internet Links
The BBC is not responsible for the content of external sites.