Albemarle & Bond lenders quash turnaround plan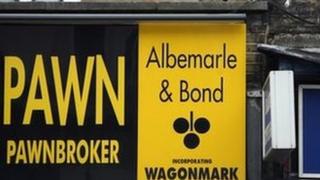 Lenders to troubled UK pawnbroker Albemarle & Bond have told the board that they will not be able to support the management's turnaround plan for the business.
The company has asked for its shares be suspended from trading.
The board is now working with Albemarle & Bond's lenders on possible alternative plans.
Remaining options, including a sale of the business, will probably not add value to the company's shares, it said.
The firm's shares were frozen at 6.65p. They have lost 95% of their value over the past 12 months.
Extension
The company has a 31 March deadline to repay outstanding loans to its lenders, Barclays and Lloyds.
The BBC understands that the company would like to defer its loan repayments beyond the deadline, which the banks can extend if they wish.
If the deadline is not extended, the company may fail, through inability to repay its debts.
The turnaround plan involved cost-cutting measures in the same vein as previous efforts to stay afloat.
Last year the company closed 33 pop-up gold-buying stores that were no longer profitable.
In November, Albemarle & Bond resorted to melting down its own gold.
Shortly after that, five company directors resigned from the company.
Last year, the company took a number of steps to try to stem losses. including curbing unsecured lending and halting online lending.
The company put itself up for sale in December, but halted the sale process in January, saying that none of the proposals it had received represented fair value for the company.