Stamps to honour 10 famous people born in 1914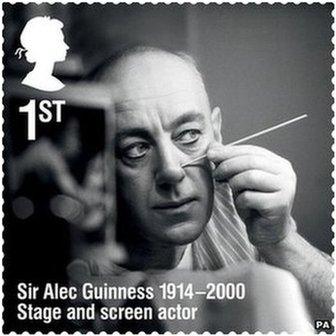 Actor Sir Alec Guinness and poet Dylan Thomas are among 10 "remarkable" people to feature on a new set of stamps.
Royal Mail said the collection was a nod to the achievements of those featured, all of whom would have turned 100 this year.
Each first class stamp includes a portrait of the individual, their name, when they were born and died, and what they contributed to British society.
The 10 different stamps go on sale on Tuesday.
Andrew Hammond, Royal Mail's director of stamps and collectibles, said: "The Remarkable Lives stamp issue creates a great sense of history, and captures both the achievement and endeavour of these exceptional people."
Others featured in the collection are actor Kenneth More, footballer and manager Joe Mercer, economist Barbara Ward, special operations executive agent Noor Inayat Khan, Nobel laureate Max Perutz, broadcaster Roy Plomley, writer Joan Littlewood and graphic designer Abram Games.
Sir Alec Guinness (1914 - 2000)
The actor began his career in theatre, but found fame around the world with his film work including Ealing comedies such as The Lavender Hill Mob, The Ladykillers and Kind Hearts and Coronets - in which he played eight roles.
Dylan Thomas (1914 - 1953)
The Welsh poet is considered by many as the finest writer to have come from Wales. His most celebrated works include Under Milk Wood, Do Not Go Gentle Into That Good Night, Fern Hill and A Child's Christmas In Wales.
Joe Mercer is the former Everton and Arsenal footballer. He was nicknamed the Footballing Grocer because he ran a grocery business in north-west England and commuted south for matches when he captained the Gunners to two league titles. He later became the England caretaker manager who took over from World Cup winner Sir Alf Ramsey.
Abram Games (1914 - 1996)
The graphic designer was considered one of the greatest poster artists of the 20th Century. He produced advertising images for oil companies and building societies, as well as propaganda posters for the government during World War Two.
Joan Littlewood (1914 - 2002)
The theatre director was described as a subversive genius who broke the mould of British drama. Her pioneering Theatre Workshop was set up as a forum for the people in defiance of establishment-supported theatre. Among her greatest works was Oh What a Lovely War.
Roy Plomley (1914 - 1985)
The broadcaster created the BBC radio series Desert Island Discs and presented the programme from 1942 to 1985. It is said he was wearing his pyjamas on a cold November night in 1941 when he came up with the question: "If you were wrecked on a desert island, which gramophone records would you like to have with you?"
The Austrian-born scientist won the Nobel prize for chemistry in 1962 for his studies into globular proteins. In the same year, he was made Commander of the British Empire.
Noor Inayat Khan (1914 - 1944)
The British-Indian secret agent, who served during World War Two, was dubbed the "Spy Princess". She was imprisoned, tortured and eventually shot after being sent into occupied France to help the resistance.
Barbara Ward (1914 - 1981)
The economist and writer was an advocate for the needs of developing countries and urged governments to share their wealth with the poor. She founded the International Institute for Environment and Development in 1971.
Kenneth More (1914 - 1982)
The stage and film actor is considered one of the British cinema greats. He was one of the nation's most popular stars throughout the 1950s, appearing in classics such as The 39 Steps and A Night to Remember.
Related Internet Links
The BBC is not responsible for the content of external sites.