Union members pay tribute at RMT leader Bob Crow's funeral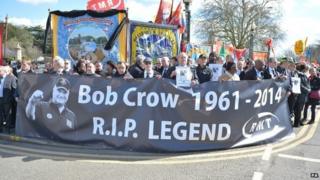 Thousands of people have turned out to pay their respects at the funeral procession of Rail, Maritime and Transport (RMT) union leader Bob Crow.
The union general secretary, who led the RMT from 2002, died of a suspected heart attack, aged 52, on 11 March.
Friends and colleagues lined the route of the procession ahead of a private service.
Mr Crow's coffin was carried in a horse-drawn carriage from his house in Woodford, east London.
The four horses were dressed in blue and white, the colours of Mr Crow's beloved Millwall Football Club.
Hundreds of union banners were displayed along the route, alongside flags from groups including the Stop The War Coalition, which Mr Crow supported.
The procession finished at City of London Cemetery and Crematorium, where a private funeral was held at the request of the Crow family.
Posters featuring a photograph of Mr Crow were also displayed at Tube stations across the capital.
Paul Kenny, leader of the GMB union, said: "Bob was a remarkable fighter for working people, but he was also passionate about protecting the health and safety of the public, which he never got any credit for.
"He was a funny, witty, interesting man, and the union movement - in fact the whole country - will be a duller place without him."
RMT president Peter Pinkney said: "Bob's death leaves a massive gap in the lives of everyone who was fortunate enough to know him and represents a huge loss to the trade union and labour movement both in this country and internationally, and specifically, for the RMT members Bob led with such stunning success."
Tributes to Mr Crow will also be paid on May Day, with a special event planned in London.