Girls in gangs leading desperate lives, says report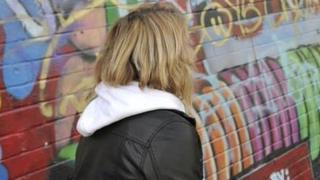 Girls in gangs are leading "desperate lives" in which "rape is used as a weapon and carrying drugs and guns is seen as normal", a think tank has said.
The Centre for Social Justice said the "daily suffering" of thousands of women and girls "goes largely unnoticed".
Girls as young as eight are being used to carry drugs, it added.
The CSJ called for youth workers to be embedded in hospital trauma units to identify victims, and for more support to be given to help girls leave gangs.
The CSJ - a right-leaning think tank established by current cabinet minister Iain Duncan Smith when he was Conservative Party leader - carried out the research with the London youth charity XLP, speaking to current and former gang members, voluntary organisations and government agencies.
Targets
Researchers producing the Girls and Gangs report heard that:
Female gang members in their teens are being pressured to have sex with boys as young as 10 to initiate males into gangs
In one case a schoolgirl was abducted and sexually assaulted by nine males because she criticised a gang member
Young women associated with rival gangs are targets, in some cases forced to take part in a "line up", where they are made to perform sexual acts on several men in a row
Girls and young women are frequently used to hide weapons and drugs - sometimes in pushchairs - because they are less likely to be stopped and searched by police
Involvement in gang culture has a detrimental impact on the education of girls and young women, researchers said, suggesting that some schools had turned a blind eye to gang activity in order to protect their reputations.
One headteacher told the study: "We can't compete with the attraction of fast cars, sex and drugs."
The CSJ will host a conference on girls and gangs in London on Monday.
Rape as weapon
Deputy policy director, Edward Boyd, said the report had discovered a "brutal underworld" where sexual exploitation and carrying guns and drugs were "almost commonplace".
"They live in a parallel world where rape is used as a weapon and carrying drugs and guns is seen as normal."
Mr Boyd told the BBC that the way police carry out stop-and-search may be inadvertently leading to girls carrying illegal items, since 95% of those stopped were male.
Former gang member Tracey Miller said she got involved with gangs due to her bad home life.
Ms Miller, who said she was convicted of stabbing someone, said she had carried a knife for protection.
"I think I got away with so much for so long because I was a female," she said.
The report said a Home Office gangs strategy launched in 2011 had not made enough progress.
It called for:
A scheme adopted by King's College and St Thomas' Hospitals in London to place youth workers on trauma wards to be expanded
More support for women and girls when their boyfriends are arrested and imprisoned for gang activity
Urgent research to be carried out to identify the true scale of the problem
Patrick Regan, chief executive of the report's co-author, XLP, said the biggest issue with girls in gangs was that "we simply don't know the full extent of the problem".
A recent report by the Office of the Children's Commissioner suggested almost 2,500 children were known to be victims of child sexual exploitation by gangs and groups.
But Mr Regan said the data "is merely the tip of the iceberg".
He said mothers being forced to carry weapons were afraid of going to police or social services for fear of being prosecuted or having their children taken away from them.
"Sometimes it's really hard to work out for these girls 'how on earth do I get out of this situation?'
"They're invisible to society and we need to make them visible again."
Crime Prevention Minister Norman Baker said the government was leading "ground breaking work" to identify women and girls who can get drawn into gangs.
"Girls associated with gangs can face sexual violence and we have provided £1.2 million for 13 Young People's Advocates to support those at risk," he said.
He said the government had set up a network of more than 70 people with experience of dealing with gangs to work with 33 of the worst affected areas of the country, including 20 in London.