School inspections overhaul proposed by Ofsted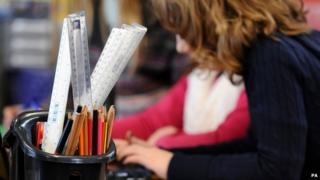 Up to 60% of England's schools could no longer be subject to full inspections under new proposals from the head of Ofsted.
Sir Michael Wilshaw used a speech to head teachers to address concerns about the current Ofsted system head on.
Full inspections would be reserved for struggling schools, or those on the verge of being rated "outstanding".
He also wanted to recruit more heads to be inspectors and to end the "outsourcing" of school inspections.
Sir Michael was talking to the Association of School and College Leaders' annual conference in Birmingham, which represents head teachers, college principals and deputies in 90% if UK schools.
Concerns over Ofsted inspections were high on the conference agenda.
'Deep nostalgia'
ASCL general secretary Brian Lightman said Ofsted inspections were now "a real barrier to good candidates going into difficult schools".
"We are getting more and more cases of people rapidly reacting to an Ofsted," he said.
ASCL says it has supported 146 heads and deputies in England who have left their jobs since the start of the current academic year after unfavourable Ofsted reports.
Sir Michael acknowledged head teachers' concerns, said he had loved being a head teacher and looked back on his time in the role with "deep, deep nostalgia".
He added: "Inspection was never far away from my thoughts as I am sure it's never far away from yours.
"But I come to you today, not in defence mode, but as a proud believer in the power and influence of inspection to improve young people's lives."
Currently only outstanding schools are exempt from such routine inspections which usually happen for all other schools every five years.
Under these proposals, schools in the top two ratings of outstanding or good would in future be visited more often - but by one inspector on a day-long visit. The proposals would need to be approved by the Department for Education.
Around 60% of schools are currently rated as "good", and Sir Michael believes there's little point sending in teams of inspectors every five years merely to confirm that status.
Sir Michael also said he wanted to review outsourced inspections, saying the job was "just too important" to be left to "third party arrangements". In some regions of the country many inspectors are carried out by part-time inspectors contracted to large firms.
Sir Michael said he was planning to "substantially increase" the number of school inspectors employed directly by Ofsted, and that he wanted to recruit a larger number of heads and deputy heads, who might perform the role on secondment from their schools.
Ofsted will consult on the details of the plan, but in future Sir Michael hopes it will carry out shorter visits to better schools, to allow more time to be devoted to under-performing ones.
Sir Michael also referred to allegations that Ofsted was "'mired in 60s, progressive child-centred learning' - in other words full of trendy, hippie-style inspectors".
He raised a laugh by saying his daughter had reacted to the claim by saying that it was the first time he had ever been called "progressive".
The conference also heard from the Education Secretary, Michael Gove.
In a wide-ranging question and answer session he was asked about his attitude towards the influence of old Etonians and to say what mark he would give himself in his performance as education secretary.
His answer to that last question, "what matters most is the mindset and the effort", was greeted with laughter.
Mr Gove said "money is being spent wisely by professionals, and standards are rising", and that meant inspectors - and the government - should "take a step back, and let them get on with the job.
Mr Gove was listened to politely and received a warm round of applause at the end of the session.
'Bit of a minefield'
Next week's planned one day strike by the NUT in England and Wales was also on many minds at the conference.
Brian Lightman said that ASCL recognised the strike was legal, and that "it's our job as professionals is to deal with that situation".
Ian Bauckham, ASCL's president, said it was not possible at this stage to know whether there would be widespread disruption as a result of the action, as the only information the NUT were obliged to provide was the number of members it had in a school.
However he dismissed suggestions by the education secretary that schools might be able to stay open with the help of parent volunteers, saying it was a "bit of a minefield."
National Association of Head Teachers general secretary Russell Hobby said: "If Her Majesty's Inspectorate (HMI) is to become increasingly busy in the inspection of good schools every two years, what impact will that have on the availability of these HMIs to focus on more vulnerable schools, who need confident and skilled inspectors?"