Military honours: More than 100 receive operational awards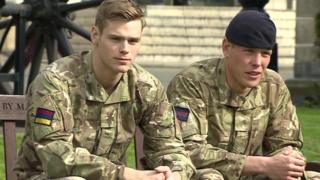 A soldier who was shot in the neck yet continued his duties during an ambush in Afghanistan has been recognised in the latest round of military honours.
L/Cpl Simon Moloney, 23, from St Albans, was one of 117 service personnel receiving awards as part of the Operational Honours list.
He resumed his lookout post after being shot by Taliban insurgents and helped to bring the firefight under control.
His Conspicuous Gallantry Cross is one of the highest military honours.
Scores of personnel from the Army, RAF and Royal Navy have been recognised for their courage during the period from April to October 2013.
L/Cpl Moloney, from the Household Cavalry Regiment, had landed by helicopter in an insurgent stronghold with his troop and Afghan forces when the incident happened, in July last year.
As the troops began to search for targets they came under fire and realised they had been ambushed.
L/Cpl Moloney was positioned on a roof with a machine-gunner, where he had to watch over the assault and identify enemy positions for his fellow soldiers, when he was shot.
'Blood spurting'
The "through-and-through" gunshot wound missed his vital arteries and voice box by just millimetres, but its force threw him off the roof.
"It knocked the wind out of me as well, the fire was that accurate," he said.
"It was a natural reaction to roll off the roof as well. I rolled off the roof, about an 8ft drop, I put my hands on my neck and realised I had been hit.
"Then it's sort of like autopilot comes in. You wait for those 30 seconds to see 'Am I going to pass out, am I going to die, is there blood spurting all over the walls, can I control the bleeding?' A million things going through your head.
"Luckily the guy who was next to me was calm. He knew his job well and he looked at it straight away and he told me it wasn't an artery, and that's when we were able to carry on and call it in over the radio to get support."
L/Cpl Moloney said he would not have survived had his fellow soldiers not done their job so well.
Medic L/Cpl Wes Masters, 25, from The Royal Army Medical Corps, rushed to L/Cpl Moloney to tend his wounds - "two holes in his neck" - and made sure they were not fatal.
L/Cpl Moloney later praised the medic, saying: "I owe him my life."
When he finished, the injured soldier went back to his post and passed critical target information to other troops that helped bring the firefight to an end.
The Ministry of Defence (MoD) said that without him, it is likely numerous members of the squad would have been injured.
L/Cpl Moloney said he could not believe he was being honoured with such a significant award but it was "nice to be able to give something to my family".
'Exceptional dedication'
Many of those recognised in the honours list served with 1 Mechanized Brigade in Afghanistan.
But other acts of courage were highlighted, including those of Royal Navy Chief Petty Officer Neil Halsey, who helped stop a stricken tug from sinking - which the MoD said averted a major environmental disaster.
RAF Flt Lt Charlie Lockyear and Master Aircrew Bob Sunderland were also honoured for landing their Chinook helicopter while under fire from Afghan insurgents.
Armed Forces Minister Mark Francois praised all those recognised for their courage.
"With the end of our combat mission on the horizon as the Afghan forces assume the lead for security operations across the country, the courage and bravery of UK forces deployed there remains constant and undiminished," Mr Francois said.
"Those featured in this operational honours list have displayed exceptional dedication and commitment to their country, their comrades and the mission. For this, they deserve our recognition and gratitude."
Shadow defence secretary Vernon Coaker said they had "displayed outstanding acts of bravery and courage".
"Working in the most challenging and dangerous of conditions, their commitment to each other, the mission and the protection of our national security has not faltered," he said.
"We are forever indebted to the selfless sacrifices made by our service personnel and their families, and this should never be forgotten."