Andy Coulson 'knew about phone-hacking project'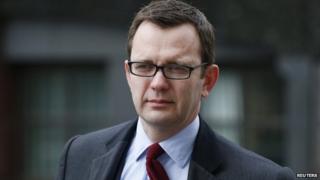 Former News of the World editor Andy Coulson knew about a "project" to hack phones, the paper's former royal editor has told the phone-hacking trial.
Clive Goodman replied "yes" when asked if his former boss knew the "Alexander project" involved private investigator Glenn Mulcaire hacking phones.
Mr Coulson, editor between 2003 and 2007, denies conspiracy to hack phones.
Both he and Mr Goodman deny conspiring to commit misconduct in a public office.
Former royal editor Mr Goodman, 56, of Addlestone, Surrey, and private investigator Mulcaire were jailed for phone hacking in January 2007.
Royal phones
Mr Goodman has previously told the Old Bailey his former editor agreed to payments in 2005 that led to three phones in the royal household being hacked.
But Mr Goodman has stopped short of saying Mr Coulson knew about phone hacking at that time.
Mr Coulson agreed to extra payments of £500 a week to Mulcaire, who had the codename "Alexander", Mr Goodman has told the jury.
Under cross-examination on Thursday, Mr Goodman was asked: "You have told the court Andy Coulson, as a result of what you told him, knew that the source described as 'Alexander' was in fact Glenn Mulcaire, is that right?"
Mr Goodman answered: "Yes."
Timothy Langdale QC, for Mr Coulson, then asked: "And that what Mr Mulcaire was doing as part of the Alexander project was hacking phones?"
Mr Goodman responded: "Yes."
Mr Langdale went on: "So he knew all about that project... he knew it was Glenn Mulcaire hacking. That's what the Alexander project was?"
To which Mr Goodman said: "Yes."
'Fiction' claim
Mr Goodman also denied keeping money which was meant to go to his sources for stories.
Mr Langdale suggested Mr Goodman got £700 in cash after the mobile phone of royal aide Helen Asprey was hacked in 2005.
He said Mr Goodman had hacked Ms Asprey's phone, but cash payment records showed that he requested the money to pay Mr Mulcaire.
Mr Goodman said this had been an "extra payment" beyond Mr Mulcaire's contract with the paper, which had been requested by then senior desk editor Greg Miskiw.
But he was challenged by Mr Langdale, who asked: "This account of yours is a fiction isn't it?"
Mr Goodman said: "No it is not."
Later in the hearing, Mr Goodman said NoW journalists were paying other journalists and anonymous contacts hundreds of pounds for spotting stories and quotations in rival papers that might provide copy for the Sunday tabloid.
He said one anonymous source, codenamed Mr Hall, received £200 for passing on a quote by singer Gene Simmons from the Daily Telegraph, which was then published in the NoW.
Mr Langdale asked Mr Goodman: "You were paying Mr Hall for his ability to read?"
Mr Goodman responded: "I was paying for his ability to spot a story that was up our street, in a long interview in a low-circulation paper... it is the sort of thing that is done all the time."
He later said: "The skill is in identifying the story and passing it through. Not getting it or writing it yourself."