EU Debate: Your questions for Nick Clegg and Nigel Farage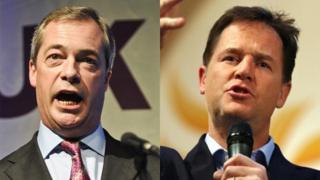 Next month the leader of the Liberal Democrats, Nick Clegg, and the leader of the UK Independence Party, Nigel Farage will debate Britain's membership of the European Union in a special programme on BBC Two.
Ahead of this programme, we want to hear your hopes and concerns. Should Britain remain in the European Union, or would the country be better off leaving the union?
For your chance to be part of the studio audience on the night and put your question to the two party leaders, email the question you would like to ask to europedebate@bbc.co.uk or tweet it using the hashtag #europedebate
The European Union: In or Out? will be broadcast on Wednesday 2 April at 19:00 on BBC Two.
Thanks for your comments. You can read some of your views here.