Tony Benn could share chapel honour with Margaret Thatcher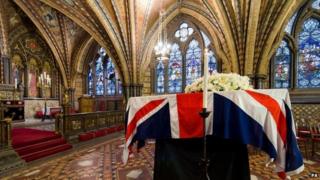 Buckingham Palace has been asked to allow the body of Tony Benn to rest overnight in a chapel in the Palace of Westminster before his funeral.
Commons Speaker John Bercow made the request, saying Mr Benn's 47 years as a Labour MP had earned him the honour.
If permission is given, his body will lie in the Chapel of St Mary Undercroft on 26 March.
Baroness Thatcher's body rested in the chapel on the eve of her funeral in April last year.
Mr Benn died last week aged 88.
A parliamentary source told the BBC that if permission were granted by the Palace, Mr Benn's body would lie in the chapel on 26 March, the eve of his funeral.
However the source stressed that if the application was approved, his body would not be put on public display and he would not be "lying in state", adding that it would be a private occasion "for the family".
A spokeswoman for Mr Bercow said: "Tony Benn's time as an MP spanned more than 50 years and he is one of only two MPs to be awarded the freedom of the House - the other being Edward Heath - in recognition of his very long and distinguished service as an MP.
"It is this almost unique distinction which forms the basis for Tony Benn to be accorded the privilege to 'rest' in the Chapel on the eve of his funeral."
Vigil
The chapel is sometimes used for weddings and christenings by the families of MPs and peers.
The Rev Rose Hudson-Wilkin, the chaplain to the Speaker, has already agreed to keep a vigil overnight - should permission be granted. But a BBC correspondent has said it is not expected that a religious service will be held.
If the request is granted, Mr Benn would become only the second parliamentarian - after Baroness Thatcher - to be afforded the privilege.
The former prime minister's coffin was moved to the chapel the night before her funeral, on 17 April last year, where the Dean of Westminster led a short service for about 100 people.
Unlike hers, Mr Benn's funeral - opposite parliament at St Margaret's Church - will not be a ceremonial one.
Mr Benn, who served in the cabinet throughout the 1970s, died at his home on 14 March, with Ed Miliband, leader of the Labour Party, and Prime Minister David Cameron, leading the tributes.
He was a major figure on the left of the Labour Party, a popular public speaker, an anti-war campaigner and a political diarist.
MPs will also pay tribute to Mr Benn, who stood down as an MP in 2001, during a special debate in the House of Commons on Thursday.
It will be led by Deputy Prime Minister Nick Clegg and Labour deputy leader Harriet Harman.