Legal aid: Government claims barristers earn £84,000 'misleading'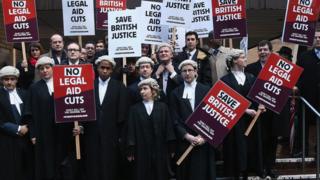 Government claims publicly-funded barristers earn £84,000 a year were potentially misleading, the head of the UK Statistics Authority has said.
In a critical letter to the Ministry of Justice, Sir Andrew Dilnot said the government ignored lower estimates to justify £220m cuts to the legal aid budget in England and Wales.
The figure was published days before a protest by barristers in January.
The government said it stood by its figures.
Pay row
The Ministry of Justice report was published four days before barristers walked out of courts across England and Wales for the first time - and have been often repeated by ministers to justify the cuts.
The Criminal Bar Association (CBA) disputes the claim, saying barristers actually earn an average of £37,000 .
On Tuesday, Sir Andrew - who leads the body which monitors the integrity of official statistics - wrote to Legal Aid minister Shailesh Vara and courts saying the report did not specify how the government figure was reached.
He said the sum was "potentially misleading" as it was not made clear barristers would have to pay costs and tax out of this.
Using a different way of calculating the figures would have produced a lower average, he added.
"Information about items included or excluded from the estimates of fee income - for example, VAT and disbursements - is also presented in the notes but the report makes no attempt to quantify the impact of the treatment of these items.
"The notes are critical to understanding of the statistics but they are not clearly referenced alongside the data table."
Shadow justice secretary Sadiq Khan said the letter meant ministers could not be trusted on the figures.
Nigel Lithman, chairman of the Criminal Bar Association, said the MoJ's figure had been "fanciful".
"Our cries went unheard, until now," he said.
"But it seems the concerns are taken up by the UK Statistical Authority who begin to take the MoJ to task for potentially misleading us.
"This is an outrage and frankly the public and the profession have a right to expect more from a Ministry of Justice. This is Britain."
But a government spokeswoman said the figures were correct and that all the information had been available.
She said the government had been as transparent as possible.