Phone-hacking trial: Goodman 'hacked Tom Parker Bowles'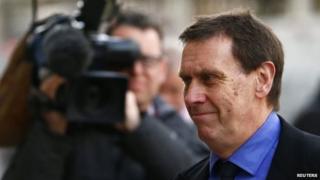 Former NoW royal editor Clive Goodman hacked the phones of the Duchess of Cornwall's son and an aide to Princes William and Harry, a court has heard.
The jury at the Old Bailey has already been told of Goodman's 2006 conviction for phone hacking.
But giving evidence, Goodman said he went further than was previously known, admitting he hacked the phones of Tom Parker Bowles and equerry Mark Dyer.
The 56-year-old denies conspiring to commit misconduct in public office.
In January 2007, Goodman was jailed after pleading guilty to hacking the voicemails of three members of the Royal Household between November 2005 and August 2006.
Those he had hacked were Helen Asprey, who worked as a personal assistant to Princes William and Harry, the princes' private secretary Jamie Lowther-Pinkerton, and Paddy Harverson, who was the Prince of Wales' then press secretary.
Under questioning from his lawyer David Spens QC on Monday, Goodman admitted that he had also hacked Mr Dyer's phone in 2005.
He said information he had needed for hacking Mr Dyer's phone - the direct dial voicemail number and PIN numbers - had come from former News of the World news editor, Greg Miskiw.
Miskiw pleaded guilty to phone hacking in October 2013.
Goodman also hacked the phone of food journalist and writer Mr Parker Bowles, the son of the Duchess of Cornwall, in February 2006, the court heard.
The information he needed to do so had been given to him by private investigator Glenn Mulcaire, who was also convicted of phone hacking in 2006 and has pleaded guilty to a similar charge in this case.
'No truth'
Earlier, Goodman told the jury he had sometimes pretended some of his sources were police officers to make them seem "more important".
He said he misrepresented the identities of his sources to then NoW editor Andy Coulson to speed up payments to them for stories.
But there was "no truth" in prosecution claims he had given money to officers for royal phone books, Goodman said.
Mr Coulson, who is also on trial, denies conspiracy to commit misconduct in a public office as well as a charge of conspiracy to hack phones.
Asked by Mr Spens about alleged illegal payments to police officers, Goodman said he had exaggerated the status of his sources because the NoW was "an enormously competitive world".
"If editors thought that your sources were more important than they were... it was a good way to get your stories into the paper," Goodman told the court.
He said it also made it more likely that payments would be agreed for his sources.
The court heard that in one email to Mr Coulson, Goodman wrote that "one of our palace cops has got hold of one of the palace phone books", and he asked the editor to agree a cash payment.
Asked if it was indeed a police officer, Goodman replied: "No, he wasn't".
He added that he had made the claim "to make sure my sources were going to get paid".
When Mr Spens asked if there was any truth in the prosecution claim that he was paying police officers, Goodman insisted: "No, no truth in that whatsoever."
'Royal sources'
Goodman also told the trial that friends and employees of the Royal Family - as well as members of the Royal Family themselves - had given him information in the past.
They included the Prince of Wales' former deputy principal private secretary and press secretary Mark Bolland, who Goodman claimed had been an important source of information.
Mr Bolland felt, Goodman said, that any story that was bad for other members of the Royal Family was good for the Prince of Wales.
Asked about the nature of his contacts, Goodman, who became royal editor of the now-defunct News of the World in 2000, replied: "Some worked for the Royal Family, some were friends of the Royal Family, indeed some were members of the Royal Family themselves."
On Monday morning a female member of the jury was discharged by judge Mr Justice Saunders for health reasons.
Goodman, of Addlestone in Surrey, and Mr Coulson are among seven defendants on trial at the Old Bailey who all deny the charges.
The trial continues.