Council tax single person discount 'should be reviewed'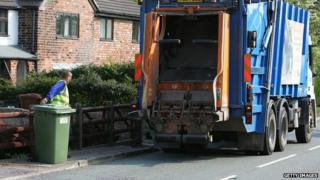 Wealthy people living alone in large homes should lose their council tax discount to fund more help for poorer families, local authorities have said.
Households with just one adult get a 25% discount on council tax at present.
The Local Government Association said councils should receive the £200m they currently lose from homes in England rated at band E or above where only one person pays the tax.
The government said it had "no plans" to change the current system.
'Wealthy bachelor'
Peter Fleming, chairman of the Local Government Association (LGA) improvement board, said removing the discount would "protect discounts for struggling families and those who need it most".
Before April 2013, there was a national council tax benefit available but since that date people on a low income or claiming benefits must instead apply to their council to ask if they are eligible for a council tax reduction.
But the LGA argues that the shift in responsibility from national to local government was accompanied by a 10% reduction - equivalent to £410m - in government funding for council tax support.
Mr Fleming said: "It is difficult to justify why discounts for wealthy professionals living in large homes are protected while nearby there are low-income families struggling to make ends meet who are having their discounts cut.
"This 'wealthy bachelor' discount currently costs councils £200m per year in lost council tax revenue and is subsidising individuals occupying large homes at a time when there is a dire shortage of housing."
Poll tax
But Local Government Minister Brandon Lewis said ending the discount would amount to "a Bridget Jones Tax" - that would unfairly hit those who live alone.
At present, it is not just adults living alone who qualify for the 25% discount.
Because there are many groups of people who do not qualify as council tax payers - including children under 18, people on apprentice schemes, full-time students, people with a severe mental disability and live-in carers among others - any household which includes one paying adult among them would be subject to a discount.
The council tax replaced the poll tax - which was largely based on a per-person charge - in 1993.
The proposals by the LGA, which represents councils in England and Wales, have been outlined to the Treasury ahead of this year's budget.