Ex-Guantanamo detainee Moazzam Begg in court on terror charges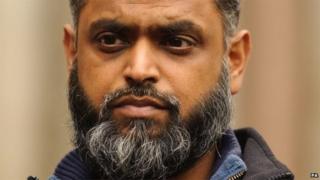 Former Guantanamo Bay detainee Moazzam Begg has appeared at the Old Bailey on terrorism charges relating to the civil war in Syria.
Mr Begg, 45, of Hall Green, Birmingham, spoke only to confirm his name via video link from Belmarsh prison.
Mr Justice Sweeney set a provisional Old Bailey trial date for 6 October to follow a plea hearing on 18 July.
Mr Begg denies providing terrorist training and funding terrorism overseas.
'Acts of terrorism'
It is alleged that between 14 July and 8 August 2013 Mr Begg became concerned in an arrangement as a result of which money or other property was to be made available to another person, knowing or having reasonable cause to suspect that it would be or might be used for the purposes of terrorism.
He is also accused of providing instruction or training between October 9 2012 and April 9 2013 knowing the person receiving it intended to use the skills for or in connection with preparation of acts of terrorism.
Mr Begg was held in the US-run military prison at Guantanamo Bay in Cuba for nearly three years. He was never charged with any offence.