Rebekah Brooks 'didn't care how she got stories', hacking trial told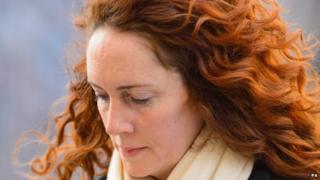 Rebekah Brooks was an editor who got stories first but "didn't care" how she got them, according to the prosecutor in the phone-hacking trial.
Ending his cross-examination of the former News International chief, Andrew Edis QC said: "You were running your world, and not much happened in it which you didn't want to happen when you were at the top of the tree."
He said her evidence had been "carefully presented and prepared".
Mrs Brooks denies all charges.
'Conceal hacking'
Ending his questioning of Mrs Brooks - on her 13th day in the witness box - Mr Edis said she must have been aware of what those around her were doing, including managing editor Stuart Kuttner, senior reporter Neville Thurlbeck, news editor Greg Miskiw and even her husband Charlie Brooks.
She responded: "That's not true."
Mr Edis asked her about Neville Thurlbeck and Greg Miskiw, who have admitted being involved in phone hacking.
Her case, he said, was that they had kept the secret from her.
"Can you think of any incentive which would lead them to do that?"
Mrs Brooks answered: "I can see no reason why the existence of a private detective doing a normal private detective's activities would be concealed. I can see why they would conceal phone hacking from me."
In relation to the illegal payments she is alleged to have authorised to a "number one military source", he said she had been let down by the reporter who requested them, and who knew the identity of the source.
"He managed to get you to pay for some stories to a public official that were not in the public interest," he said.
She said: "I think the majority, if not all, for me - all have some public interest."
The court also heard former prime minister Tony Blair offered to help Rebekah Brooks the day after she resigned from News International.
The jury was shown details of 17 texts exchanged between the two in the week after the News of the World closed on 10 July 2011 and she was arrested on 17 July 2011.
Earlier she told the Old Bailey trial her husband Charlie made an "impulsive, ill-thought-out decision" to keep some of his belongings from the police who were investigating phone hacking.
The court saw video which prosecutors said showed Mr Brooks hiding two bags behind bins in an underground car park. They contained his "mobile office" and a Jiffy bag of pornographic magazines.
Mrs Brooks said he later told her he had given them to her security team.
The court also heard Mrs Brooks' personal assistant, Cheryl Carter, had checked her own notebooks into the News International archive under her boss's name because she was not senior enough to use it.
Mrs Brooks' claim that seven boxes labelled with her name which "went missing" in fact contained items belonging to Cheryl Carter was dismissed by the prosecution as "rubbish".
'Damage limitation'
In Mrs Brooks' final moments on the stand, the judge in the trial told her it may be suggested she helped to limit the damage to News International from the phone-hacking affair because she was personally involved in the illegal accessing of mobile phone voicemail.
Mrs Brooks has admitted playing a role on two occasions to reduce the impact of the affair.
In April 2007, while editor of the Sun, she offered disgraced reporter Clive Goodman a job after he served a prison sentence because of concerns he might take News International to an employment tribunal, resulting in more damaging headlines
A year later she was involved in negotiating a £1m settlement with public relations consultant Max Clifford partly, she said, to prevent him taking the company to court.
Mr Justice Saunders said to her: "Phone hacking was a big story - you don't like cover-ups and damage limitations do you? The suggestion being made to you is the only reason you were involved in damage limitation [is] that you would not have done that unless you yourself had been involved."
Mrs Brooks said she had felt "comfortable" for years about not being involved in the affair and had "no reason to worry about my own position".
Mrs Brooks, 45, was News of the World editor from 2000 to 2003, and then edited the Sun from 2003 to 2009. She denies conspiracy to hack phones, conspiracy to commit misconduct in public office and conspiracy to pervert the course of justice.
Mr Brooks denies perverting the course of justice.
They are among seven defendants on trial who all deny the charges.