Max Clifford trial: Woman 'suicidal after sexual abuse'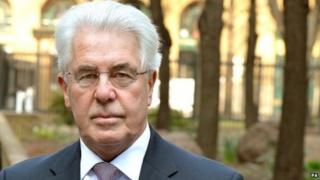 A woman has told a court that she wanted to kill herself after being sexually abused by Max Clifford.
The alleged victim, who was 15 at the time, said the publicist told her she could become the UK version of Jodie Foster, and ordered her to perform sex acts on him in his car.
Mr Clifford, from Hersham, Surrey, faces 11 counts of indecent assault relating to seven alleged victims, aged from 14 to 19, between 1966 and 1984.
The publicist denies all the charges.
A curtain was drawn across the witness box at Southwark Crown Court as the woman, the second alleged victim to give evidence, was asked to recall events in the summer of 1977.
The woman, now 51, said Mr Clifford repeatedly abused her, telling her he had to "really get to know you, what makes you tick".
The woman told jurors that she considered suicide after Mr Clifford claimed a photographer had taken a picture of her giving him oral sex.
The court heard how the then teen had met the defendant while on holiday with her parents in Torremolinos in Spain.
She said the PR guru had impressed her parents with the promise of finding her modelling work and told her to phone him after the holiday.
'Dirty talk'
The woman told jurors that a man calling himself Terry Miller phoned her and advised her to contact Mr Clifford because he was a "mover and shaker".
He allegedly told her to practise talking dirty for Mr Clifford.
The prosecution have claimed this was a bogus call made by either Mr Clifford himself or someone working on his behalf.
Earlier, the woman told the court that Mr Clifford had persuaded her to take off her top and bra during a visit to his office.
She said she had been "blown away" by the defendant's claims that she could be an actress.
But she said she was left feeling uncomfortable, nervous and vulnerable when Mr Clifford encouraged her to take off her top, and only did it because she could not defend herself.
The court heard that Mr Clifford made a derogatory comment about the then teenager's figure, saying she would not be able to do topless modelling.
"He said that, although I was nice, that I wouldn't be able to do topless modelling, which I was really shocked by," she told jurors.
"I was shocked, the fact he said something horrible to me about my figure, because I had been so brave to take my bra off and I was shocked he was talking about topless modelling because we had just been talking about me being the UK's Jodie Foster.
"I was really confused. I didn't know what was going on."
'Robotic and controlling'
Mr Clifford, 70, shook his head as he listened to her evidence using a hearing loop in the dock at London's Southwark Crown Court.
The alleged victim, who cannot be identified, said she could not tell her parents about the abuse for fear they would disown her.
She said it would have been "like a bomb going off" and she was worried she might end up in a children's home.
The woman told the court that she could not stop seeing Mr Clifford because he arranged the meetings and "my parents were looking forward to seeing him".
She said they had been "delighted" when he picked her up at their south London home in his yellow Jaguar and the neighbours saw a smart car outside the house.
She said he would talk to her parents before taking her out in his car and abusing her.
She described how he molested her and then instructed her to carry out oral sex on him.
She described him as being "very robotic and controlling" during the abuse, which lasted several months.
"I was just completely at a loss," she said. "I didn't know really what was going on and I didn't know how to make it stop. It frightened me."
Anonymous letter
Mr Clifford, she added, had warned her that a photographer had taken a picture of her giving him oral sex.
"I thought 'My life has ended'," she said. "I thought 'Well, whatever happens now, it's huge and it's going to be awful and I'm going to lose everything'."
She added: "I said 'I want to kill myself', I thought about killing myself."
The woman also said she had written an anonymous letter to Mr Clifford, confronting him about the alleged abuse, as part of counselling she was receiving in 2011.
In it, she wrote: "You were very clever. A+ in grooming children. How proud you must have been."
She was later cross-examined by defence barrister Richard Horwell QC, who questioned her claim to have been in Mr Clifford's office for one or two hours.
He said: "If you went to that office you would have seen him for no more than 15 minutes, 30 minutes at the most."
She replied: "It took him longer than that to persuade me to take my top off."
Mr Horwell went on: "I suggest that, if you went to his office, that would have been the first and the last time that you ever saw him."
She replied: "Not true. I wish it had been the truth."
Mr Horwell also questioned whether Mr Clifford had been in Torremolinos in August 1977 as she had described.
The woman insisted he had been there.