Rebekah Brooks denies knowing paper hacked Milly Dowler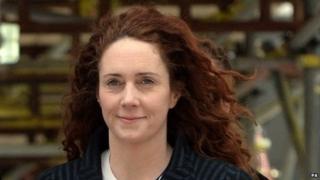 Rebekah Brooks has denied knowing that the News of the World hacked Milly Dowler's phone at the time of the schoolgirl's disappearance, the phone-hacking trial has heard.
But prosecutor Andrew Edis QC claimed the former editor "must have known".
He was questioning her about a mistaken belief by reporters in 2002 that the schoolgirl was still alive and working in a factory.
Mrs Brooks denies all hacking charges against her.
Unaware
Milly Dowler, who was 13, vanished as she walked home from school in Walton-on-Thames in March 2002. Her remains were found six months later in woods in Hampshire.
The Old Bailey heard that a party of around "five or six" reporters travelled to Telford, Shropshire, in April 2002 under the belief that Milly could still be alive, and was working in a factory.
The reporters were chasing up a false lead, which had come from an intercepted voicemail message on her phone, and had been supplied to the now-defunct paper by private detective Glenn Mulcaire.
If the schoolgirl had been found alive in Telford, the Sunday paper would have put the story on the front page, the court heard.
But Mrs Brooks said she had been unaware of the potential development, and had been on holiday in Dubai at the time, leaving her deputy Andy Coulson in charge.
She said: "I think if it had been believed back at Wapping that they were sure beyond all reasonable doubt that they had found Milly Dowler working in a factory in...Telford, wherever.. that they would have told me, I'm sure.
"The fact is nobody told me."
'Accessed'
But Mr Edis suggested that reporters acting in this way was evidence that Mrs Brooks "must have known" that her newspaper had hacked Milly Dowler's phone.
"I didn't," she said.
Mr Edis said: "They [the reporters] were telling the police (that the phone had been accessed)...".
"I know," she said.
Mr Edis said: "But not you."
Mrs Brooks said: "Nobody told me they had accessed Milly Dowler's phone at the News of the World or working for the News of the World until 4 July 2011."
Previously the court has heard evidence from William Hennessy, who met Mrs Brooks on holiday in Dubai in 2002, and said he had heard her discussing "the missing Surrey schoolgirl" on the phone to "work".
Mr Edis said: "That [the phone hacking] is something you learnt, I'm going to suggest, during one of those calls ... you learnt about the phone hacking on the phone."
Mrs Brooks responded: "I did not know about the phone hacking of Milly Dowler."
On her 12th day in the witness box, she was questioned by Mr Edis about her contact with co-defendant Mr Coulson while she was away.
"I would talk to Andy Coulson about what was on the front page while I was on holiday," she said.
Mrs Brooks was later asked by Mr Edis about what was said at a birthday party for Mr Coulson.
A witness had claimed she had a laugh about phone hacking, with former Mirror editor Piers Morgan saying he had hacked her phone.
But Mrs Brooks said: "I do not remember Piers Morgan saying he had hacked my phone. He may have said it, I just don't remember."
Mrs Brooks, 45, was News of the World editor from 2000 to 2003, and then edited the Sun from 2003 to 2009. She denies conspiracy to hack phones, conspiracy to commit misconduct in public office and conspiracy to pervert the course of justice.
Mrs Brooks and Mr Coulson are on trial among seven defendants, who all deny the charges.