Bob Crow, RMT union general secretary, dies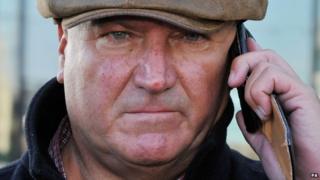 Rail Maritime and Transport union leader Bob Crow has died at the age of 52 of a suspected heart attack.
Leading the RMT from 2002, Mr Crow became one of Britain's most high-profile union leaders.
Union, industry and political figures have been paying tribute to him.
London Mayor Boris Johnson, who often clashed with him, said Mr Crow had "fought tirelessly" for his members. Labour's Ed Miliband said he had been a "passionate" campaigner.
The prime minister's official spokesman said David Cameron offered his sincere condolences to Mr Crow's family and friends.
And Liberal Democrat leader Nick Clegg said Mr Crow had been a "fighter and a force".
'Really fought'
Mr Crow was elected general secretary of the RMT in 2002 following the death of former leader Jimmy Knapp.
Under his leadership, the RMT's membership increased by more than 20,000 to 80,000.
The union's president Peter Pinkney said Mr Crow's death "represents a huge loss to the trade union and labour movement both in this country and internationally".
The BBC's political editor Nick Robinson said Mr Crow "was, some argue, the most successful union leader in terms of securing jobs and pay for his members".
While he was supported by his members, Mr Crow was often criticised by some politicians and parts of the media when the union decided to take industrial action - sometimes to the consternation of London's commuters.
Just last month thousands of Tube passengers endured delays because of strike action over planned job cuts and ticket office closures.
Mr Johnson said: "This was a guy who really fought for his members and who stuck up for his point of view.
"Obviously I didn't always agree with what he had to say but... together with other union members, Bob Crow unquestionably helped to drive through huge progress on London Underground, and he leaves a massive legacy behind."
Mr Johnson's predecessor Ken Livingstone said: "If you think in terms of what's a tribute to him, I can't think of any other job that working class people do that's got good wages and conditions and a pension - all the others have been eroded."
Transport Secretary Patrick McLoughlin said Mr Crow had made "an important contribution to the debate around the future of rail services in this country".
Mr Miliband said Mr Crow had been "a major figure in the Labour movement and was loved and deeply respected by his members".
He added that Mr Crow had been a "passionate defender of and campaigner for safe, affordable public transport" and a "lifelong anti-fascist activist".
"I didn't always agree with him politically but I always respected his tireless commitment to fighting for the men and women in his union."
'Feared by employers'
Mr Crow leaves a partner, Nicola Hoarau, and four children.
Born in 1961 in east London, he got his first job on the underground at the age of 16, fixing rails and cutting down trees by the track.
He became a local representative for the then National Union of Railwaymen at the age of 20, rising through the ranks before becoming general secretary of the RMT - which was formed by the combining of the National Union of Railwaymen and the Seamen's Union in 1990.
Last month, Mr Crow joined his members on the picket line during the Tube strike.
Manuel Cortes, leader of the TSSA rail union, which also took part in the strike, said: "Bob Crow was admired by his members and feared by employers, which is exactly how he liked it.
"It was a privilege to campaign and fight alongside him because he never gave an inch."
Mr Crow did not attend a TUC executive away day on Monday because he felt unwell.
His older brother Richard told Sky News he believed the union leader had suffered a heart attack early on Tuesday, and paid tribute to the "loveable little rogue".
"We grew up together in Chigwell in Essex and he was a very likeable chap - no matter what people said about his politics," he said.
"He was honest, he looked after the people he was supposed to look after, and he was a great man as far as honesty and beliefs went."
He added: "When people have a high office in life they fall for the big trappings of the flash cars and the big hotels and big houses. But Bob wasn't like that, he was a genuine person of the people."
'Gobby'
In an interview broadcast on BBC Radio 4 on the day before he died, Mr Crow described himself as "talkative", but said he did not like to be "gobby".
"At the end of the day, to be a general secretary of a union you've got to be larger than life," he said.
"[You can't] walk around with a grey suit on and eat a cheese sandwich every lunch time. You want someone who's got a bit of spark about them."
He also defended his salary, which was reported to be £145,000 but he suggested was closer to £90,000, saying he was worth it because RMT's members had received pay rises every year even during austerity, had good pensions and had good holiday allowances.
TUC general secretary Frances O'Grady said he was "an outstanding trade unionist, who tirelessly fought for his members, his industry and the wider trade union movement".
Paul Kenny, GMB general secretary, added: "Even people who didn't like what he did agreed he did it very well."
Dave Nellist, national chairman of the Trade Unionist and Socialist Coalition, which Mr Crow had co-founded in 2010, said: "Bob Crow was an inspirational union leader who tenaciously defended his members' jobs, pay and conditions - head and shoulders above most other union leaders."