Phone-hacking trial: Paying newspaper sources 'normal'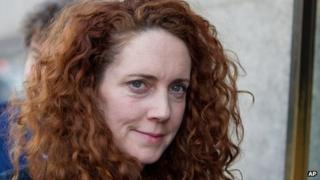 Cash payments by the Sun and the News of the World to sources were "part of the normal business" and did not equal criminality, Rebekah Brooks has told the phone-hacking trial.
The former editor denies conspiracy to commit misconduct in a public office by authorising payments to public officials.
She has told the court she approved payments to public officials in stories where there was a public interest.
Mrs Brooks denies three other charges.
She became News of the World editor in 2000 then edited the Sun from 2003-09.
Monday marked her eleventh day in the witness box.
'Constant dialogue'
Prosecutor Andrew Edis QC put it to Mrs Brooks that when reporters emailed asking her to authorise payments, "none of these people writing emails say anything about the public interest to you. Nobody says 'Listen, boss, it would be in the public interest to make this payment because of A, B, C, D and E'?"
Mrs Brooks, 45, responded that department heads did.
Mr Edis asked: "Did you care how your journalists were dealing with public officials?"
Mrs Brooks said she did and when challenged on whether she cared enough to ask them, she said "it was a constant dialogue".
She was also repeatedly asked by Mr Edis if she had thought about whether a military source paid for supplying stories to the Sun was a public official.
The court heard that in 2006 she received a request from a reporter for authorisation to pay £4,500 to a source whose name and details she did not know.
Mr Edis asked: "Did you think at all about whether it was a public official?"
Mrs Brooks replied: "My assumption was it was not a public official."
She was also asked about why certain military stories were worth paying for when they were often made public through official avenues.
'Commercial interest'
The Ministry of Defence did not always release all the details and sometimes it was to get the story first, she said.
Referring to the story of a major killed in Afghanistan who was close to Prince William, Mr Edis said there was "no particular public interest in a story like that being published that day. The interest is a commercial interest in publishing it first."
Mrs Brooks responded: "I suppose we would say it's a good story, yes."
The trial is about illegal payments to public officials, allegations of attempts to hide potential evidence and phone hacking - the illegal interception of messages.
Mrs Brooks and seven other defendants deny all the charges against them. The trial continues.