Camp Bastion fatality named as Sapper Adam Moralee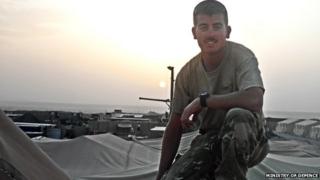 A British soldier who died at Camp Bastion in Afghanistan has been named as Sapper Adam Moralee.
The 23-year-old armoured engineer from Newcastle was killed while working with plant equipment on Wednesday.
Sapper Moralee from the 32 Engineer Regiment was due to be promoted to lance corporal later this year.
His family said: "Adam touched the hearts of all of us who were lucky to know him and not a day will go by where he is not in our thoughts and hearts."
Sapper Moralee joined the Royal Engineers in January 2008 and trained as an armoured engineer to operate and maintain armoured engineer vehicles.
He was deployed to Afghanistan in March 2011 and again in September 2013. He had been involved in preparing equipment for withdrawal.
Lt Col Steve Davies, commanding officer 32 Engineer Regiment, said "Quietly determined and utterly dedicated, Sapper Adam Moralee was an outstanding soldier."
Defence Secretary Philip Hammond said: "It is clear from the tributes paid to Sapper Moralee that he was a determined and respected soldier who was good-humoured, trustworthy and considerate."