Phone-hacking trial: Rebekah Brooks denies 'cooking the books'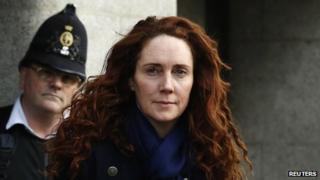 Rebekah Brooks has rejected a claim that the "books were cooked" at the News of the World to prevent phone hacking being uncovered.
The prosecution made the accusation in relation to payments made by the paper to private detective Glenn Mulcaire, who was jailed in 2007 after admitting intercepting voicemails.
But Mrs Brooks, 45, said the accusation was "just not right".
She denies four charges including conspiracy to hack phones.
Under cross-examination by prosecution barrister Andrew Edis QC, Mrs Brooks denied knowing about the £92,000 deal with Mulcaire.
It was made in weekly payments and signed off by then managing editor Stuart Kuttner, the court heard.
Mr Edis said to Mrs Brooks: "What I am suggesting to you is, it is now perfectly clear the books were cooked to prevent anybody investigating or finding out what Mr Mulcaire was doing."
Mrs Brooks said: "I did not cook any books."
"Somebody cooked them," Mr Edis said. "It should have been £92,000 and not 52 payments."
Mrs Brooks said the contract had not been brought to her attention because it was "paid in relatively small weekly payments" and because the news desk "kept within their weekly spending limit".
Approving payments
Mr Edis went on: "You do accept this contract was hidden?"
She replied: "I accept it should have come to me and Mr Kuttner."
"Mr Kuttner approved every payment so he knew what was going on," Mr Edis said.
"Did he ever tell you, 'I'm paying £1,769 to a company I have never heard of and I do not know what they do. Is that all right, boss?'"
Mrs Brooks replied: "No, he never, ever said anything like that to me."
Mulcaire was convicted of hacking phones in 2006, after Mrs Brooks had left the News of the World, the jury heard.
Mrs Brooks was also asked about her relationship with deputy editor Andy Coulson.
She has admitted the two had an affair but denied it lasted for six years, and has said she did not speak to him about the hacking of murdered schoolgirl Milly Dowler's phone in 2002.
She was on holiday in Dubai while he was editing the News of the World and the Milly Dowler story was published.
Asked by Mr Edis about their trust for each other, she said: "I trusted him as a friend and as a deputy editor yes."
Mr Edis said: "But was it more than that. If a deputy editor was committing a crime he might not want the editor in normal circumstances to find out about it but he might tell his editor if he really trusted her.
"Was the relationship in 2002 such at Mr Coulson could really trust you with any confidence."
Mrs Brooks answered "Yes."
She was asked about the letter she wrote in 2004 to Mr Coulson which has revealed what the prosecution described as a "six-year affair".
The letter was intended to be a response to Mr Coulson's demand that they end their relationship. It was never sent.
The court heard for the first time that in the letter she wrote "for six years I have waited".
But she again denied the affair had lasted six years.
She said during this period she had met actor Ross Kemp, got married and tried to have a baby.
"Andy Coulson has already got on with his life," she said. "I am clearly saying that it is six years since we had first got together... but I hadn't been sitting there like Miss Havisham."
Mrs Brooks denies conspiracy to hack phones, conspiracy to commit misconduct in public office and conspiracy to pervert the course of justice.
Mrs Brooks and Mr Coulson are on trial among seven defendants, who all deny the charges.