Probation union Napo announces strike over outsourcing plans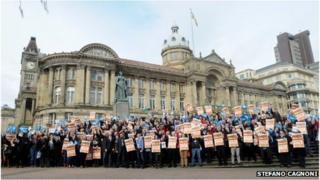 Probation workers in England and Wales are to go on strike in protest at plans to outsource parts of the service.
The National Association of Probation Officers (Napo) said its members would stop work for 24-hours from midday on Monday 31 March.
Napo said plans to outsource 70% of the work of the service were "recklessly dangerous".
But the government criticised the "unhelpful" announcement and promised contingency arrangements.
It will be the union's second strike over the reforms since November.
'Social experiment'
Under the Ministry of Justice's plans, most probation work, supervising low and medium-risk offenders, would be outsourced to private firms and voluntary groups.
Napo has been running a fierce campaign against the proposals.
Speaking at a campaign rally in Birmingham, the union's general secretary Ian Lawrence said: "The coalition's plans to sell off the management of offenders to private providers so that they can make a profit from the justice system is a recklessly dangerous social experiment that presents massive risks to the safety of communities."
The strike call came as the National Audit Office warned there must be contingency plans in case the outsourcing arrangements failed.
An NAO report said there were "generic risks" associated with the reforms, adding that the "management and supervision of offenders is a crucial public service which cannot be interrupted for any reason".
The spending watchdog said the probation sector had been performing effectively and found no weaknesses in the accounts for all 35 trusts.
'Unhelpful'
Probation trusts will cease operation on 31 May and will then be wound up.
More than 700 organisations from across the world have expressed interest in the contracts, including hundreds of British firms.
Responding to Napo's industrial action announcement, Justice Minister Jeremy Wright said: "This is a strike in favour of the status quo which is high reoffending rates and no support for 50,000 short sentenced offenders."
He said the union had recently ratified an agreement giving staff "a series of protections" under the new arrangements.
Mr Wright said: "We are therefore surprised that they have now chosen to adopt this unhelpful course of action.
"It is even more disappointing when we are making positive progress towards the mobilisation of the new rehabilitation arrangements.
"We have well established contingency arrangements to deal with any potential action and will continue to support staff and engage with unions as our reforms move forward."