Phone-hacking trial: Brooks 'did not cover up hacking'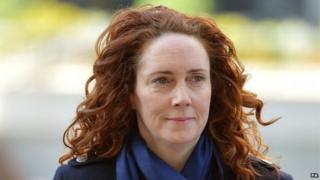 Rebekah Brooks has denied covering up the extent of phone hacking at the News of the World when she became chief executive of its parent company.
She told the phone-hacking trial she thought News International's behaviour between 2007 and her appointment to the role in 2009 had been "honourable".
Mrs Brooks, 45, said she had "no reason to believe otherwise".
She denies four charges including conspiracy to hack phones and to commit misconduct in public office.
Mrs Brooks, who became News of the World editor in 2000 then edited the Sun from 2003-09, is being cross-examined at the Old Bailey by prosecution barrister Andrew Edis QC for the first time in the trial.
She said police told her in 2006 that they believed more than 100 people's phones had been hacked.
Following the 2006 police investigation, former News of the World royal editor Clive Goodman and private investigator Glenn Mulcaire were jailed for phone hacking in January 2007.
Mr Edis asked Mrs Brooks whether she knew in 2009 that the "whole truth" had still not emerged.
She said the police had told her they only needed "between five and 10" victims for the prosecution in 2006.
Mr Edis asked again: "Did you or didn't you... believe that the whole truth had not come out during the [2006-07 case]?"
Mrs Brooks replied: "I don't think I saw it like that."
Asked if she thought the company's behaviour had been "honourable" between 2007 and 2009, Mrs Brooks said: "At the time yes I did, I had no reason to believe otherwise."
And asked if she had known News International was "covering up the extent of phone hacking at the News of the World", she replied: "No."
Mr Edis asked if she had done "any investigation at all" into hacking after she became chief executive, but she said there "wasn't a need" because the information was "already out there".
She was asked why when Mulcaire was arrested in 2006, during her editorship of the Sun, she did not inquire into what he had been doing for the News of the World while she was editor from 2000-03.
She said she did not need to because she had known at the time that he was working as a private detective, and they were widely used to trace people for the newspaper.
She maintains she did not know at the time that Mulcaire was hacking phones.
Knew hacking 'possible'
Mrs Brooks told the court she would allow journalists to commit criminal offences to pursue a story if it was in the "public interest".
She was asked whether she had specifically told journalists not to hack phones.
"I did not say that to my journalists," she said.
Mr Edis said: "Although you learnt in the late 90s it was possible?"
She replied: "Yes."
Mrs Brooks is one of seven defendants in the trial. They all deny the charges.