Police forces appeal against A19 retirement ruling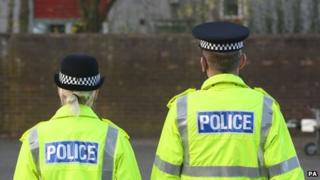 Five police forces have appealed against a ruling that their use of a regulation to make older officers retire was not "proportionate".
Nottinghamshire, West Midlands, Devon and Cornwall, North Wales and South Wales forces used regulation A19 to make officers with 30 years of service leave in the "interests of efficiency".
Last month an employment tribunal ruled this was "not a proportionate means of achieving a legitimate aim".
The forces appealed after legal advice.
The London Central Employment Tribunal made the ruling last month on behalf of 250 officers who were made to retire under A19.
It said the "practice of requiring the retirement of nearly all officers" eligible under A19 - which includes all those up to the rank of Chief Superintendent with 30 years of service - was not proportionate.
But Nottinghamshire Police has said it and the four other forces have taken legal advice and been told they have "grounds for an appeal".
"It is not known at this stage how long the appeals process will take," it added.
'No viable alternatives'
After last month's ruling, Nottinghamshire Police Federation secretary Mick Taylor said the case for the officers had been "vindicated".
The forces could face paying millions of pounds in compensation to the former officers affected.
But reacting to last month's ruling, Nottinghamshire's Chief Constable Chris Eyre said the use of A19 had to be considered "as a result of the wide-ranging austerity measures affecting public services".
He said the decision to force officers to retire had been "very difficult" but there were no "viable alternatives".
Last year, the High Court ruled the use of A19 - which is part of the Police Pensions Regulations 1987 - was lawful.