Nelson Mandela thanksgiving service: 'A fitting tribute'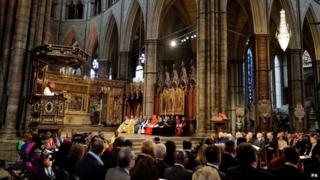 It was a thanksgiving service that blended the traditionally British with the distinctly African. It celebrated the role the UK played in the anti-apartheid struggle.
It honoured a man who guests were told was the "international icon of our era".
On a rainy day in London, nearly 2,000 people filled Westminster Abbey to give thanks for the life and work of Nelson Mandela.
He often described the UK as the second headquarters of the anti-apartheid movement, such was the level of support here.
The guests were led by Prince Harry, representing the Queen, members of the Mandela family, UK Prime Minister David Cameron, former prime ministers Sir John Major and Gordon Brown as well as the actors Richard E Grant and Idris Elba, who played Nelson Mandela in the film Mandela: Long Walk to Freedom.
Fitting tribute
Westminster Abbey, usually a place for a rather sober state occasion, was filled with the sound of the Soweto Gospel Choir. One of the opening pieces of music in the service was a protest song - the acoustics of the abbey adding to its power and richness.
The Labour MP, Peter Hain, offered one of the tributes to Nelson Mandela. Mr Hain's family had been forced to leave their home in South Africa due to their involvement in the anti-apartheid movement.
He told guests that Nelson Mandela never forgot the tens of thousands of British citizens who supported his struggle and would have been humbled by today's service.
The abbey was played an extract from Nelson Mandela's inaugural presidential address - a highly-charged moment, as that distinctive voice spoke out about the new South Africa he wanted where "black and white could walk tall."
But perhaps the most memorable words of the day were spoken by Archbishop Desmond Tutu.
His eyes closed, his voice at times sounding as though it would crack with emotion, he thanked Nelson Mandela for showing us all what we could be. He also thanked all of those who had fought apartheid over the years.
"I use this great pulpit to say on behalf of our people, thank you. How I wish we could open our hearts and you could see the depth of our gratitude."
There was a notable absentee. The South African President, Jacob Zuma, was due to be here but unexpectedly cancelled last week. He spent the weekend in Zimbabwe at the wedding of Robert Mugabe's daughter.
As guests poured out of the abbey's West Door beneath London's gloomy skies, the mood was one of positivity and of a service that had lifted spirits.
The actor Idris Elba told me he could not believe he had been part of it. It was, he said, "a touching experience and a fitting tribute".
As Peter Hain had told the abbey in his tribute: "There will never be another one like him."