Phone-hacking trial: Rebekah Brooks 'warned Coulson about emails'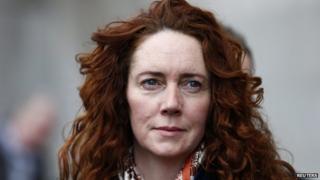 Rebekah Brooks arranged a meeting with Downing Street communications director Andy Coulson to warn him of new phone-hacking evidence, a court has heard.
Mrs Brooks told the phone-hacking trial she called the meeting in January 2011 to warn Mr Coulson emails had been found suggesting further hacking during his time as News of the World editor.
She said Mr Coulson later resigned from his role working for David Cameron because he had "become the story".
Mrs Brooks and Mr Coulson deny hacking.
She has said she had not known hacking was going on until a 2006 police investigation.
The emails which had been discovered suggested a journalist, who cannot be named for legal reasons, had been involved in hacking while Mr Coulson was editor from 2003-07, she told the Old Bailey.
Mrs Brooks - then chief executive of News International, the News of the World's parent company - said she asked an assistant to arrange the meeting "somewhere discreet". She later met Mr Coulson at a London hotel.
"I was going to tell Andy we have found some pretty incriminating evidence," she said.
Her barrister, Jonathan Laidlaw QC, asked if she planned to tell Mr Coulson the emails were going to be passed to the police.
She replied: "I can't recall but maybe - quite possibly."
Brand 'too toxic'
Mrs Brooks, who was succeeded at the News of the World by Mr Coulson when she became editor of the Sun in 2003, said: "It was very evidently becoming very difficult for Andy's position in Downing Street."
She said she thought the new information would "make it worse".
"Andy Coulson had already come to the decision that when a spokesman has become the story himself, that was the time to leave the job," she said.
Mrs Brooks has previously told the court she had an affair with Mr Coulson during her relationship with actor Ross Kemp.
The court also heard an email from News International executive Simon Greenberg, sent in summer 2011, said the News of the World had become a "brand too toxic for itself and the country".
He said it should be closed down. Its last edition was published in July that year.
'Huge' liability
Earlier Mrs Brooks, 45, said payments to victims of phone hacking were kept secret to stop more people suing.
She said she realised News International could have to make substantial payments to hacking victims when, in 2006, police told her private investigator Glenn Mulcaire had probably hacked into the voicemails of 100-110 people.
Mulcaire and former News of the World royal editor Clive Goodman were jailed in January 2007 for hacking.
Speaking about the situation once the police told her about hacking, Mrs Brooks said: "Obviously News International [the News of the World's parent company] was sitting facing an unknown exposure for civil liability of Glenn Mulcaire's activity."
She added: "The potential liability was huge. It was felt our best policy to protect the company commercially was to do confidential settlements."
She also told the jury about a £200,000-a-year contract with PR consultant Max Clifford, as part of which he agreed to drop legal action over hacking.
Mrs Brooks said the Sun and the News of the World stopped dealing with him after a dispute in 2005.
She said Mr Clifford was one of the victims in the case involving Mulcaire and Goodman - and she agreed a £200,000 annual contract to create a "successful commercial relationship" and get him to drop legal proceedings.
She and Mr Coulson are two of seven defendants in the trial. They all deny the charges.