Ukraine crisis: Russia must face costs, say Cameron and Obama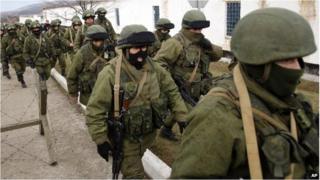 David Cameron and Barack Obama have agreed Russia must face "significant costs" if it does not change course after deploying troops in Ukraine.
Number 10 said the prime minister and US president spoke by phone on Sunday.
Meanwhile, Prince Edward has cancelled a visit to the Sochi Paralympics, as patron of the British Paralympic Association, on government advice.
The call preceded a statement from the G7 that it was suspending preparations for this year's G8 summit in Russia.
It comes as the American government has said Russian forces have taken control of Crimea.
Ukraine has ordered a full military mobilisation in response to Russia's build-up of forces on the peninsula.
Russian President Vladimir Putin says Russia reserves the right to protect its interests and those of Russian speakers in Ukraine.
'Completely unacceptable'
A Downing Street spokesman said: "The prime minister and President Obama spoke at 9pm tonight [Sunday].
"They agreed that Russia's actions were completely unacceptable. They agreed on the urgent need for de-escalation and for Russia to engage in a dialogue directly with Ukraine.
"They agreed there must be 'significant costs' to Russia if it did not change course on Ukraine."
A statement from the G7 said it was suspending preparations for June's G8 summit in the Russian resort of Sochi because of the "clear violation of the sovereignty and territorial integrity of Ukraine".
It called on Moscow to "address any ongoing security or human rights concerns that it has with Ukraine through direct negotiations".
The G7 nations comprise the UK, US, Canada, France, Germany, Italy and Japan, while the G8 includes those nations plus Russia.
In a separate development, Buckingham Palace said Prince Edward has cancelled a visit to the Sochi Paralympics.
A statement said: "The Earl of Wessex, patron of the British Paralympic Association has, on the advice of government, cancelled a planned visit to Russia between 11 and 14 March to attend the Sochi Paralympic Games."
British Paralympic Association chief executive Tim Hollingsworth told BBC Sport: "We completely understand the decisions that have been taken that mean UK ministers and His Royal Highness The Prince Edward will not attend the Sochi Paralympic Games.
"We are grateful for their continued full support for the British team to compete in Sochi. That remains our prime focus; the team are all in Sochi as of tomorrow [Monday] and training hard."
A spokesman said Mr Cameron remained "fully supportive of our Paralympic athletes' participation at Sochi".
Foreign Secretary William Hague travelled to Kiev on Sunday.
The Foreign Office said he would make clear the UK's support for Ukraine's new government which was formed after the ousting of former President Viktor Yanukovych last month.
Mr Yanukovych's removal from power followed four months of street protests that culminated in bloody clashes between demonstrators and security forces.
The Foreign Office has advised against all travel to Crimea, and urged British nationals in the peninsula to leave.
It said it was not able to provide consular services to anyone choosing to remain in Crimea.