High-stakes gaming machines: Gamblers to set limits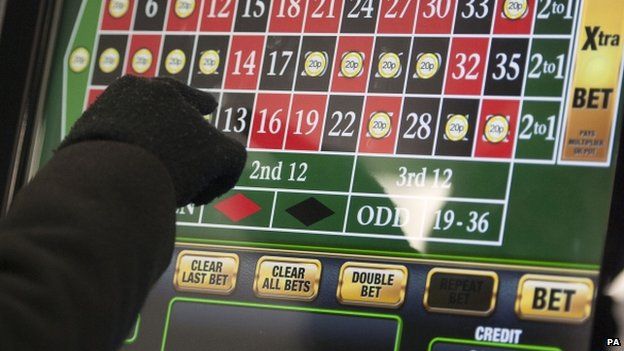 Gamblers in England and Wales will be able to set their own limits on time and money spent on high-stakes gaming machines in betting shops.
There will also be mandatory alerts on the fixed-odds betting machines after spending £250 or 30 minutes.
The Association of British Bookmakers (ABB) says the new industry code of conduct is the first of its kind in the world.
The government called it a "positive step" but said more could be done.
There are now more than 33,000 such fixed-odds betting terminal (FOBT) machines across England and Wales, on which gamblers can wager £100 every 20 seconds.
They have been the focus of criticism recently with campaigners seeking to get the limit reduced to £20 and Labour calling for local authorities to be given more powers to curb them.
ABB chief executive Dirk Vennix said the industry recognised growing concerns that some gamblers were spending too much money on gaming machines. "One problem gambler is one too many," he said.
"That is why we have put together the code, which introduces revolutionary new harm minimisation measures, the likes of which have yet to be seen anywhere in the world."
New technology will be installed in them, allowing alerts to staff when financial limits are reached and forcing customers to have a 30-second break. It could take up to six months for the installations to be complete.
Betting shop staff will also receive training to help identify problem gamblers and offer advice and support. They will be expected to undergo regular refresher courses.
The ABB said the code, which comes into effect on Friday, had the "full support" of the gambling industry.
Andrew Lyman, head of government relations at William Hill, said the introduction of alerts on machines and training for betting shop staff were "genuine harm reduction measures", adding: "Problem gambling levels in the UK are low by international standards."
But Matt Zarb-Cousin, from the Campaign for Fairer Gambling, dismissed the measures as "window dressing".
He said while gamblers would be allowed to set their own limits, sticking to them remained optional.
"Customers can just override them if they are addicted," Mr Zarb-Cousin said.
He said a "significant proportion" of people who bet on such high-stakes gambling machines showed signs of addiction.
Mark Griffiths, professor of gambling studies at Nottingham Trent University, said the new code went further than anything previously introduced by the gambling sector.
"Some of the measures proposed are innovative and potentially world-leading and I am delighted that the ABB has taken such a proactive stance in their efforts to promote responsible gambling and minimise problem gambling", he said
Dirk Hansen, chief executive of gambling advice service GamCare, added: "These new measures will not only educate players to the risks associated with gambling but also empower individuals to get support when they need it."
Minister for sport and tourism Helen Grant said the government was committed to help tackling problem gambling.
"We want there to be a competitive gambling sector but not at the expense of public protection, and our ongoing review is focused on that," she said.
Labour welcomed the measures but shadow sports minister Clive Efford repeated the party's call for people to "be empowered to limit the number of these machines if they perceive a problem in their area".
The Local Government Association (LGA) has also said that rules needed to be changed in England and Wales to prevent bookmakers being "clustered" in town centres.
Related Internet Links
The BBC is not responsible for the content of external sites.