Phone-hacking trial: Brooks 'agreed payments to officials'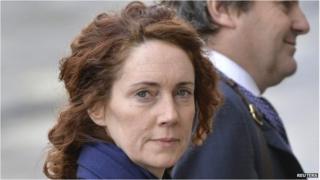 Rebekah Brooks has told the phone-hacking trial she approved payments to public officials - but only when there was an "overwhelming public interest".
She said she had agreed payments on a "handful of occasions" between 1998 and 2009, when she held senior roles at the Sun and the News of the World.
Public officials had approached the papers asking for money in exchange for information, she told the Old Bailey.
Mrs Brooks denies four charges including conspiracy to hack phones.
She told the jury she "sanctioned payments to a public official in the line of their work".
Her barrister, Jonathan Laidlaw QC, asked her: "Were there occasions where there were approaches [by public officials] for money for the exchange of information."
She replied: "Yes".
"My view at the time was that there had to be an overwhelming public interest to justify payment in those very narrow circumstances to a public official being paid for information directly in line with their job," she said.
Questioned about how many times this happened, she replied: "A handful of occasions - half a dozen."
'Public interest'
Mr Laidlaw asked: "So there had to be an overwhelming public interest, and if there was not?"
She replied: "If there wasn't a public interest defence then it was not done because it was considered to be illegal."
Mrs Brooks was also questioned about claims an MoD press officer, Bettina Jordan-Barber, received payments of £100,000 for information she provided to the Sun.
Asked if Mrs Brooks knew the source was a public official, she replied: "No".
Mr Laidlaw took her through stories in the newspaper which had followed payments to Ms Jordan-Barber, along with an email sent by a journalist from the Sun to Mrs Brooks in November 2006.
The email read: "Morning boss, I wondered if you would please authorise the following payments for my number one military contact?"
The court heard that the sum amounted to £4,500 and that Brooks emailed back within a minute with the response: "Of course".
She told jurors she would not have had any reason to doubt the reporter in question.
"I'm not reading this email as we are now, looking for something wrong", she explained.
The former editor said there were "never any complaints" from the MoD about the stories or where the information was coming from.
However, she said former prime minister Gordon Brown did complain to the Sun over stories on the treatment of troops.
'Blind spot'
Earlier Mrs Brooks, giving evidence for a fifth day, told the jury she had made "lots of mistakes" as editor of the Sun.
In 2003 the paper published the headline "Bonkers Bruno locked up" after boxer Frank Bruno was admitted for psychiatric treatment.
Mrs Brooks told the court this was a "terrible mistake", and said she had a "complete blind spot" when agreeing the headline.
"He had not been well, and we talked to him about it and we did everything we could to make up about it," she said.
The headline had been spotted by her partner Ross Kemp and she phoned the newsroom to have it changed, she said.
'Ship ship hooray'
In another example, she said it was "cruel" to label Labour MP Clare Short "fat and jealous" for campaigning to stop the paper printing images of topless women on page three.
Mrs Brooks said "balance went right out the window" in attacks on social work leader Sharon Shoesmith after the death of Peter Connelly - known as "Baby P".
And she told the court the headline "Ship ship hooray" abut the death of Harold Shipman, a doctor who murdered numerous patients, had been "in bad taste".
The jury was also shown dozens of stories Mrs Brooks was proud of.
These included the launch of the Help for Heroes campaign, military bravery awards, publicising adoption and improvements to international news in the Sun.
Earlier she told the court that, as editor of the Sun, she had regular meetings with senior politicians, police officers, defence chiefs and security services officials.
She said most of these guests came to the newspaper's offices, but she had to travel to meetings with the security services.
Politicians often wanted to discuss the "good things they were doing", she said, while she met armed forces chiefs to discuss conflicts in Iraq and Afghanistan.
The trial is about illegal payments to public officials, allegations of attempts to hide potential evidence and phone hacking - the illegal interception of messages.
Mrs Brooks is one of seven defendants who deny all the charges against them. The trial continues.