Magistrate numbers in England and Wales fall by 1,837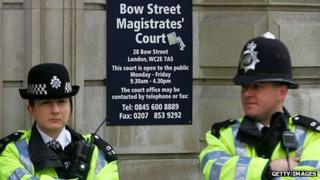 The number of magistrates in England and Wales fell by 1,837 last year, new figures have revealed.
Judicial Office figures released to campaigning charity Transform Justice show there were 22,160 magistrates last month - 7,110 fewer than in 2009.
The charity says magistrates are now older and less representative of ethnic minorities than 15 years ago.
Charity director Penelope Gibbs said: "Radical steps need to be taken to increase recruitment."
Since January 2012, when the number of magistrates totalled 23,997, some 990 have retired and 919 resigned, while 300 new magistrates were appointed.
The charity's warning comes after Policy Exchange, a right-leaning think tank, last week said that having courts sit during evenings and weekends would encourage younger magistrates.
Diversity
According to the figures, 56% of magistrates are now aged over 60 - compared with 32% in 1999.
Ms Gibbs warned numbers would "very soon dip below 20,000" and recruitment will "grind to a halt".
She said: "Courtrooms where every magistrate on the bench is over 60 will become common.
"If magistrates are to remain representatives of the people, radical steps need to be taken to increase recruitment, and to attract younger and more diverse candidates."