Met pair dismissed over 'Plebgate'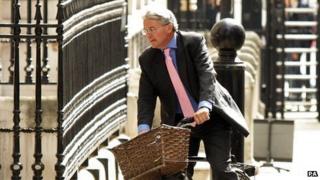 Two Metropolitan Police officers have been dismissed over the "Plebgate" row that led to Tory MP Andrew Mitchell resigning as chief whip.
PCs Keith Wallis and James Glanville were sacked for gross misconduct.
Wallis, 53, was jailed in January after admitting falsely claiming to have witnessed the original row between Mr Mitchell and police in September 2012.
Police said Mr Glanville was dismissed for passing information about the incident to the Sun newspaper.
'National scandal'
Mr Mitchell, MP for Sutton Coldfield, was forced to quit as the government's chief whip as a result of the fallout of the Downing Street row. He has admitted swearing during the original incident but has always denied the allegation by the officer present, PC Toby Rowland, that he used the word "pleb".
After media reports of the incident, Wallis, of West Drayton, sent an email to John Randall, then Mr Mitchell's deputy in the whips' office, claiming to be a member of the public who had witnessed the argument and heard Mr Mitchell use the word "pleb".
He said he had been sightseeing near Downing Street with his nephew, when he was, in fact, off duty at the time and thought to have been nowhere near Downing Street.
Mr Justice Sweeney, who jailed Wallis for 12 months, said he had been guilty of "sustained, and in significant measure, devious misconduct which fell far below the standards expected of a police officer".
And Deborah Glass, head of the Independent Police Complaints Commission (IPCC), said his actions had helped turn "a largely inaudible altercation lasting less than a minute into a national scandal".
Mr Mitchell was present at the Met's disciplinary hearings which were held in private at New Scotland Yard. He said: "There is a limit to what we can say because these are private hearings.
"It would be better in our view because of the public interest in all of this if the hearings were held in public. But two police officers have been found guilty of gross misconduct and have been dismissed from the police. The police have issued a press release which goes into some more detail, but that basically is the essence of it."
In a statement the Met said Assistant Commissioner Simon Byrne had found the officers, both from the Diplomatic Protection Group (DPG), breached professional behaviour standards relating to confidentiality, integrity, orders and instructions and discreditable conduct.
It said: "Wallis was arrested on 15 December 2012. Under interview he initially maintained that he was present by Downing Street, however after being informed by detectives he was not present on CCTV he went on to admit that he lied about witnessing the incident and had provided a false account to his MP.
"Additionally, the misconduct hearing considered that since at least June 2011 Mr Wallis had been running a business interest that was not disclosed to the MPS. The MPS stopped paying Mr Wallis on the day he was sentenced, at the Old Bailey."
Outstanding hearings
The statement said Mr Glanville had not been on duty during the row but was present at the DPG office later that night.
Operation Alice, which investigated the row, found evidence he passed on information to the Sun. He later provided the newspaper with a copy of PC Rowland's email describing the confrontation to his supervisors.
He was arrested in January 2013 but the Crown Prosecution Service told him in November that he would not face criminal charges. He has been suspended from duty since his arrest.
The Met Police said three outstanding gross misconduct hearings were expected to take place in April and May.
The statement added: "This investigation was carried out by detectives from the directorate of professional standards and supervised by the IPCC.
"Detectives have examined mobile phone records, email data, journalistic material, CCTV footage, and PC Rowland's hand-written notes of the encounter, plus records of a conversation with his supervisor minutes after the incident.
"Over 1,100 statements have been taken during the course of this investigation. There have been 439 exhibits seized, and 78 relevant documents. These include 78 forensic submissions of items, including computers, laptops and mobile phones."