Compensation deal agreed for Jimmy Savile victims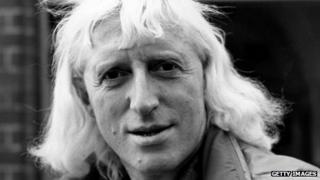 A compensation scheme for the victims of sex attacker Jimmy Savile has been approved by a High Court judge.
The agreement was struck between executors of Savile's estate - worth about £4m - and lawyers representing the claimants.
Mr Justice Sales approved the deal at the London hearing.
But he dismissed an attempt to replace the NatWest bank as the executor of the Savile estate.
The BBC television presenter and DJ is said to have abused more than 200 people over a 60-year period.
Lawyers said the announcement was good news for the more than 140 people who have made compensation claims.
It followed a three-day hearing about a dispute over who should be the executor of Savile's estate.
Judge to give reasons
At the start of the proceedings lawyers representing the victims said they had agreed a compensation scheme with NatWest bank, which was also supported by the NHS and the BBC.
The largest beneficiary of the estate - the Jimmy Savile Charitable Trust - is unhappy with the bank's performance and wants it replaced as executor.
Trust bosses suggest that compensation issues have not been fully thought through by NatWest.
NatWest disputes the complaints.
But lawyers for the victims argued that replacing Natwest would undermine the compensation scheme and claimants might be forced into litigation.
Mr Justice Sales said he will give the reasons for his decision at a later date.
The former presenter of the BBC's Top Of The Pops and Jim'll Fix It programmes died aged 84 in October 2011 - a year before allegations that he had sexually abused children were broadcast in an ITV documentary.
The revelations prompted hundreds of victims to come forward. They said they were attacked at BBC premises or in other institutions, including NHS hospitals.
A report by the Metropolitan Police and NSPCC said Savile had "used his celebrity status and fund-raising activity to gain uncontrolled access to vulnerable people across six decades".
Thirty-three NHS organisations have come under review for links with the serial sex attacker, including Broadmoor, Stoke Mandeville and Leeds General Infirmary hospitals.
An independent inquiry into what the BBC knew about Savile is being led by Dame Janet Smith.