Phone-hacking trial: 'Disbelief' over Goodman arrest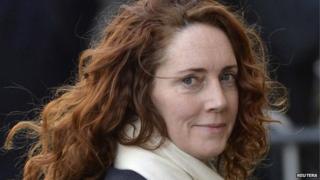 Rebekah Brooks has spoken of her "disbelief" and "shock" when News of the World royal correspondent Clive Goodman was arrested over allegations of hacking.
She told the phone-hacking trial she was on holiday in Italy when news of the arrest in 2006 reached her.
From "the Sun's point of view" there was "disbelief of the allegations at first", she said.
Mrs Brooks denies all charges against her.
She said that following Goodman's arrest, in August that year, she asked staff in her newsroom about the use of private detectives.
"I did ask them about private detectives," she said. "Not in the context of accessing people's voicemails but just asking, 'We don't use these kind of people, do we?'
'Grumpiness'
"The Sun was always very low in its use of private detectives compared to other newspapers," she said.
Asked if there was any belief in January 2007 that the criminality at the News of the World had extended beyond just Goodman, Mrs Brooks replied "no".
It was only after Goodman's arrest that she became aware private investigator Glenn Mulcaire had also been arrested by police, the court heard.
She said Mulcaire's arrest caused "a certain amount of grumpiness" from The Sun's team, who, she said, felt as though they had been "cheated" when they heard about the interception of voicemails.
Following Goodman's release from a prison sentence for hacking voicemails, he was "angry" at discovering he had lost his job, and intended to forge ahead with plans to take News International to an employment tribunal, Mrs Brooks told the court.
She said she had arranged to go for lunch with him to try to stop him from taking this tribunal action.
"I went with an objective to offer him a job to stop him going through with this tribunal," she said.
But it was an offer Goodman declined.
Earlier, the court heard Mrs Brooks talk of her "strained" relationship with ex-lover and rival editor Andy Coulson.
She told the phone-hacking trial they kept a "Chinese wall" between them over work when she edited the Sun and Mr Coulson was News of the World editor.
Giving an example of the professional distance between herself and Mr Coulson and the two tabloid newspapers they edited, Mrs Brooks said she had not known about a story - allegedly obtained by phone hacking - about an affair involving Labour MP David Blunkett.
The prosecution claims the story about Mr Blunkett, published by the News of the World in summer 2004, was "developed from a hack".
'Full steam ahead'
Mrs Brooks, who was replaced as editor of the News of the World by Mr Coulson when she moved to the Sun in January 2003, twice said "No" when asked if she knew her old paper was working on a story about Mr Blunkett.
Asked if she knew the News of the World had accessed voicemails connected to Mr Blunkett, she said: "No, absolutely not."
She said Mr Coulson told her about the story "late on Saturday night" before its publication on Sunday, and said she did not know the source of the story.
After Mr Coulson's tip-off, she said her team at the Sun went "full steam ahead" to find out the name of the woman involved with Mr Blunkett.
Mrs Brooks told the court she had "quite a strong relationship" with Mr Blunkett, whom she had worked with on campaigns.
Mrs Brooks, one of seven defendants on trial, denies all four charges against her - two charges of conspiracy to pervert the course of justice, one of conspiracy to commit misconduct in public office and one of conspiracy to hack voicemail messages.
Six other defendants also deny the various charges against them.