Team GB get Downing Street reception after Sochi Winter Olympics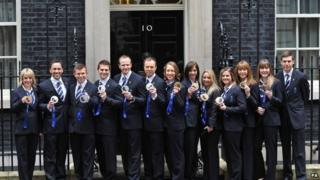 Medal-winning Team GB athletes who competed in the Sochi Winter Olympics have been recognised for their achievements at a special Downing Street reception.
The team won medals in four events during the Games.
The medal haul equalled the record achieved by the Great Britain team at the inaugural Winter Olympics in 1924.
Prime Minister David Cameron told the winners they were "brilliant", saying: "You have inspired me."
The athletes attending the reception included skeleton gold-medallist Lizzy Yarnold and snowboard slopestyle bronze-medallist Jenny Jones, as well as the women's and men's curling teams, who won bronze and silver respectively.
Speaking to the BBC just before she met the PM, 25-year-old Lizzie Yarnold said: "It's been a great day; it's been a great week. I just can't really believe that it's all happened."
Yarnold, whose gold medal is one of only 10 in British Winter Olympic history, added: "People are driving along, and coming past, honking their horns and taking pictures, so, it's nice to share it with everyone now I'm back in Britain."
UK Sport invested £13.4m from lottery and exchequer funding so that Team GB could take part in the Games.