National Farmers' Union condemns flooding plans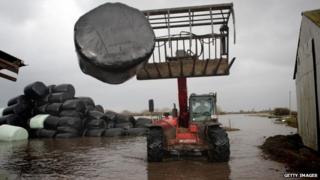 The National Farmers' Union (NFU) has condemned "ludicrous" plans to flood farms on high ground to prevent homes and businesses in towns from being hit.
Engineers have proposed creating ponds and bogs on high ground to prevent rainfall rushing down hills and causing flooding.
However, NFU president Peter Kendall said farmland was "far too valuable".
He said: "We have to put lives and human safety first but we have to put a higher priority on agricultural land."
A £10m farming recovery fund, announced earlier this month by the prime minister, will open on Friday.
Farming Minister George Eustice told the NFU Conference in Birmingham the money would help flood-hit farmers in key areas, such as restoring grassland, restoring access to fields and improving field drainage.
All farmers affected by the floods would be able to apply for emergency funding of up to £5,000 under the scheme, covering up to 100% of their business costs, he said.
Experts say farmers in higher areas have contributed to recent flooding by straightening streams and draining bogs that used to capture rainfall.
The Chartered Institution of Water and Environmental Management (CIWEM) says rainfall should in future be captured in upland areas by felling trees into streams to make them overflow.
It claims the resulting wetlands would also benefit wildlife.
The recommendation comes after the Environment Agency admitted it "cannot protect all people and all properties".
Back to nature
However, Mr Kendall told BBC News: "For people to say that a fallen tree is a way of managing water flows is ludicrous."
He said some farms in Somerset had been flooded "year on year", adding that water should not simply be "dumped on farmers' land".
Farmers affected by the recent flooding will find out how the government will spend £10m set aside to help them at the National Farmers Union conference in Birmingham later.
Mr Kendall said the UK should follow the example of Holland and ensure that waterways were fully dredged to carry away water swiftly to the sea.
Experts point out that Holland has also recently begun to adopt a "back-to-nature" approach alongside dredging after deciding that it is financially and practically impossible to protect all farmland.
David Rooke, executive director of flood and coastal risk management, said the Environment Agency's promise that dredging would take place on the Somerset Levels was only "part of the solution".
He said "adapting to a changing climate is still a work in progress".
"What we need to do is learn from across the world and indeed the world learns from our experiences, particularly in terms of all the flood mapping we do and the flood forecasting and warning systems that we have in place," he said.
Around 6,500 properties have been flooded this winter, which has been the wettest since 1910.