Millions paid to consultants as MoD jobs go unfilled, MPs told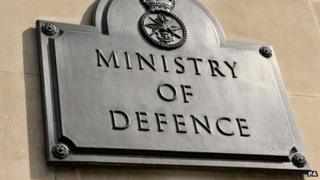 Defence chiefs are paying hundreds of millions of pounds to consultants hired to plug a staffing gap caused by poor pay rates, MPs have been told.
Around 400 highly skilled jobs within the Ministry of Defence (MoD) are vacant due to "uncompetitive" pay, the Public Accounts Committee heard.
Yet £400m is being spent on technical consultants brought in on contracts.
Mps were told this was a "reflection" of the current recruitment crisis at the Ministry of Defence.
The department is now pressing the Treasury and Cabinet Office for greater freedom to pay more competitive salaries.
It has also held talks with the Department for Transport, which faces a similar problem with its most technically skilled staff.
The MoD has proposed combining the budget for consultants and the £900m spent on staff, then set its own pay rates.
'Uncompetitive salary'
Bernard Gray, chief of defence materiel, said it was "mad" that officials ended up covering the cost of the higher salaries workers are paid in the private sector instead of offering staff better pay.
"We pay out - when we pay these firms for technical support - significant premiums to the cost of hiring the individual," Mr Gray said.
"So we are talking about something in the order of about 100% mark up on somebody's time for going out and having them off our books but supplying us with services as opposed to having them on the books."
He told the committee he had been arguing that the MoD needed to pay its staff properly so it could better manage public money.
The MoD has struggled to fill positions in engineering, commercial and project management.
Mr Gray said the principal reason given by potential candidates was "uncompetitive salary".
A senior employee who was "running" the nuclear weapons programme until last year moved to the private sector for a "50% premium", the committee was told.
'Fairly vague'
Defence chiefs admitted the department still had some way to go to change its spending culture, which has been repeatedly criticised over recent years.
The National Audit Office warned earlier this month that while cost overruns were being brought under control, risks remained to the long-term affordability of the MoD's equipment programme.
A report from the spending watchdog highlighted confusion over how an under-spend of £1.2bn had occurred in the equipment budget.
MPs told the MoD officials that this looked "fairly vague" and "intuitively odd".
The department's permanent secretary Jon Thompson said further work needed to be done to explain the oversight.