Doreen Lawrence says sections of police 'still racist'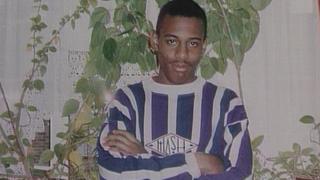 The mother of murdered London teenager Stephen Lawrence has said she believes parts of the police are still racist.
Speaking 15 years after the Macpherson Report branded the Metropolitan Police force "institutionally racist", Baroness Lawrence said some attitudes "haven't changed much".
She said stop and search measures continued to be unfair.
Met Deputy Commissioner Craig Mackie said the force had made "huge progress" over stop and search policy.
Baroness Lawrence revealed how she closes her bag when she goes into shops so she cannot be accused of shoplifting.
She said: "You make sure that you are walking in a way that your bag is closed so nobody can look to accuse you of anything. That fear is there."
Hugely sensitive
Asked about the shooting of Mark Duggan, which sparked riots across England, Baroness Lawrence said: "It seems as if it's more acceptable" when a black person is killed.
In response to Baroness Lawrence's comments on Mark Duggan a Metropolitan Police Federation spokesman said: "The officer in this case has been through a judicial process that has included two crown court trials and a coroner's inquest, which thoroughly examined all of the circumstances and factors involved that day.
"Having heard all of the evidence a jury found his actions were lawful."
Baroness Lawrence also said: "Things have changed, I presume laws have changed but I think a lot of police attitude hasn't changed much.
"You still have a great deal of stop and search on the street, you still have members of the community complaining about how police are treating them," she said.
Asked if she thought the police were still institutionally racist, she said: "In some areas, yes I do."
The Macpherson Report, into the investigation of the Stephen Lawrence case, was released on 22 February 1999 and contained 70 key recommendations.
It highlighted "fundamental errors" after the murder.
"At the time, when the inquiry happened and the report came out, yes it was a landmark, yes it made a difference, yes it allowed people to be more open, to talk about racism," Baroness Lawrence said.
However, she added: "I still think there are underlying things where people believe that they can still get away with racism, especially within the police."
Baroness Lawrence said things will not have changed completely until more black people join the police force and climb the ranks.
"The recruitment may have increased, but you find that people are still leaving in droves," she said.
"Once they are there, institutional racism is still within the force and people feel they are not comfortable. And when you look at the progression, we have very few senior black officers."
Baroness Lawrence added that - while efforts were being made by senior members of the Met to stamp out racism - the "bobbies on the beat" do not necessarily have the same understanding.
"They need to understand they need the consent of the community to police them and that's not happening," she said.
"Young officers leave school at 16 - some of them. They kick about for two years, they join the force at 18 and they are given these powers. But do they understand the powers that they actually have? And that's what I think needs to change."
Duwayne Brooks, Mr Lawrence's friend who was with him on the night of his murder, called on the Met to publish a "progress report" into how it had changed
He said many black people still thought the Met was racist, adding that "the police need to so something about that".
'Moving forward'
Mr Brooks, who is now a councillor in Lewisham, south London, told the BBC: "How do we know that the Met have actually taken on board these recommendations? We don't.
"We have never had a progress report and 15 years on, today we should have been given that report."
Mr Mackie, who is the national police lead on stop and search, said said issues around racism were still "hugely sensitive".
He said the force "absolutely got the message around stop and search", saying the Met has made "real progress" around the issue in London.
He said the use of Section 60, which allowed police officers to stop and search a person without reasonable suspicion, had been cut by 90%.
Mr Mackie added: "If you look at the work we are doing in London at the moment we know we have made real progress and there are some really good examples of where we are moving forward."
But he said the force knew there was more to do on this issue.
Meanwhile, Metropolitan Police Commander Mak Chishty urged ethnic minorities to consider a career in the force.
"We want to look like London and that's a complicated and difficult task in itself, because London is forever evolving," he said.
He said the force hopes to recruit 5,000 officers between now and 2015.