Ready meals to get Red Tractor meat seal of approval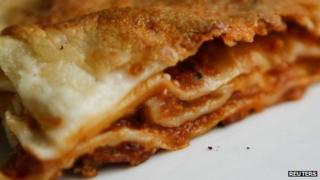 Ready meals will for the first time be branded with a Red Tractor logo to reassure consumers when the meat they contain is from a UK farm.
The move comes as the food industry grapples to win back public confidence following the horsemeat scandal.
The new stamp has been devised as a pledge that 100% of the meat used reaches certain farming standards.
The Red Tractor logo has never appeared on ready meals as their ingredients were deemed too complicated.
Britons binned around 18 million ready meals on the back of the horsemeat scandal, which erupted in January 2013.
Horsemeat DNA was identified in burgers and a range of ready meals found on supermarket shelves, including Tesco, Iceland, Aldi and Lidl.
Contamination fears
Consumer confidence in chilled convenience foods plummeted in the aftermath of the scandal and sales have not managed to bounce back fully.
Red Tractor chief executive David Clarke said concern about the contamination of products had contributed to the drive to develop the new hallmark.
"The new 'Made With' logo has been in development for some time and although it isn't a direct reaction to horsemeat, the events that unfolded in 2013 certainly made us look at it even more seriously," he said.
Supermarket chain Asda will launch the logo on its chilled beef ready meals later this month. It plans to roll it out to other products over the course of the year.
The Red Tractor logo, introduced 14 years ago, appears only on products that can be traced back to UK farms and are deemed to have reached certain animal welfare standards.
According to research carried out by the organisation, more than half of shoppers are more likely to buy products such as ready meals and pies if they feature the logo.
Around 78,000 farms are part of the Red Tractor Assurance scheme, which is regarded as a marker of high standards of safety and hygiene, animal welfare and environmental protection.
At the time of the 2013 horsemeat scandal, health experts said the issue was one of food fraud rather than food safety.
Numerous stores and companies across Europe, including the UK and Ireland, were forced to recall their ready-made beef meals.
The European Union ordered member states to conduct random tests for horsemeat. In the UK, positive results were found in some Findus lasagne and some Aldi lasagne and spaghetti bolognese - all made by the Comigel food processing company in France.
The meat used in the products was found to be up to 100% horsemeat.