Jimmy Savile victims 'were laughed at or ignored'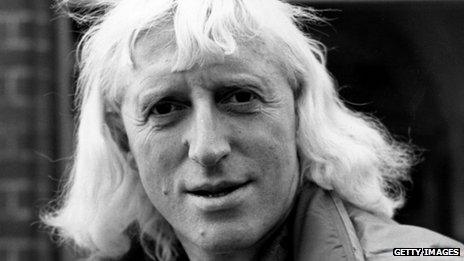 Victims of serial sex attacker Jimmy Savile were not believed when they first confided in others, an NSPCC report has found.
Many were ignored, dismissed or laughed at by those they told shortly after Savile abused them.
Some of them were even told by friends or relatives they were "lucky" the late DJ had paid attention to them.
Meanwhile more than 130 alleged victims are awaiting a court ruling that could affect a compensation scheme.
The NSPCC said the accounts were "heart-rending", and the victims had shown "true courage".
The former presenter of the BBC's Top Of The Pops and Jim'll Fix It died aged 84 in October 2011 - a year before allegations that he had sexually abused children were broadcast in an ITV documentary.
The revelations prompted hundreds of victims to come forward. They said they were attacked at BBC premises or in other institutions, including hospitals.
The report was commissioned by Her Majesty's Inspectorate of Constabulary to find out why so many victims stayed silent for so long.
The research was carried out by the National Society for the Prevention of Cruelty to Children (NSPCC), which interviewed 26 people. Four were adults when they were abused; the others were children. One of them had reported the matter to police at the time but no action was taken.
A number of victims who were staying in hospital when they were abused told staff at the time but were not taken seriously.
The report says those who did not come forward until decades after the attacks stayed silent for so long because they felt that, as Savile was a celebrity, their word would not be believed over his.
Several had not realised what had happened to them as they were so young, with many saying they had not understood Savile's actions constituted sexual abuse.
The report says: "Some remembered feeling that an elder - particularly a celebrity like Jimmy Savile - must know better than they did.
"There were also cases where participants also remembered feeling conflicted, and wondering if they should feel flattered or grateful that he had 'chosen them'."
There was an "overwhelming belief" that their complaints would not have been accepted at the time.
"Jimmy Savile was a powerful and influential adult, who was seen as a 'charitable, good guy' raising a lot of money for charity," the report says.
"This led to feelings of hopelessness and inferiority in his victims, who felt there was no way that their word would have been believed over his."
Many also thought that crimes had to be reported by an adult, rather than a child.
The report found that Savile's abuse caused wide-ranging repercussions throughout victims' lives, including mental health problems, substance abuse and thoughts of suicide.
Years after being attacked, a "significant number" of the victims, who were aged between eight and 26 at the time of the abuse, have still not told family and friends.
Those interviewed by the NSPCC said media reports of others coming forward played a part in their subsequent decision to report the crimes.
The report says: "Crucially, all participants said that they would not have come forward now, had they not seen the stories of other victims in the press."
However, some revealed that seeing images of their abuser in coverage of the scandal triggered flashbacks and made them feel physically sick.
Most victims felt police were helpful when they came forward - but one reported feeling she was to blame when an officer commented: "I think I would have pushed him off."
All of those interviewed said they did not believe police intended to be unhelpful or inconsiderate.
NSPCC director of national services Peter Watt said: "The responses these victims received when they first revealed Savile's sickening crimes make heart-rending reading.
"They were ignored, dismissed, not believed, laughed at and astonishingly told in some cases they should feel lucky he had paid them attention."
Mr Watt said everyone should be aware of signs of abuse to "ensure there is never a repeat of the Savile scandal".
He praised the victims' "true courage" in talking about their experiences, adding: "Half a century on, the world finally discovered just how dreadful his crimes were - something these men and women had known all that time but felt powerless to do anything about."
The report also covers calls by the victims for the introduction of new ways for people to report sexual abuse and for additional specialist training for police officers investigating such crimes.
One of HM Inspectors of Constabulary, Drusilla Sharpling, said the report "vividly portrays the pain and anguish suffered by Savile's victims".
"Despite the difficulties they have faced, victims have highlighted important ways in which police responses can be improved," she added.
"We owe it to them to make sure that the police service responds positively and ensures victims are supported, listened to and treated with compassion."
Chief Constable Simon Bailey of the Association of Chief Police Officers said there had been a change in the way society reacts to child abuse since Savile committed his crimes.
He said: "We know that reporting is always going to be emotional and difficult for victims of sexual abuse but, partly following the allegations against Jimmy Savile and other high profile child sexual exploitation cases, across society there is a much greater understanding of child abuse and an intolerance of it."
The High Court hearing in London, expected to last three days, is being held to decide who should be the executor of Savile's £4m estate.
NatWest bank is the current executor, but the Jimmy Savile Charity Trust, the major beneficiary of the estate, wants it to be replaced.
Lawyers representing victims said the ruling could affect those who have made compensation claims. A compensation scheme with NatWest has already been agreed and is supported by the NHS and the BBC, they added.
Liz Dux of law firm Slater Gordon, who represents some of Savile's victims, said in a statement: "It is not about amounts or cold hard cash, but redress. The victims suffered some horrific abuse, often in silence.
"It is right and proper that their suffering is now recognised. I urge everyone involved in the process to make it as smooth and pain-free as possible in order to guard against any further suffering."