Prime Minister's Questions 'hits politics' reputation'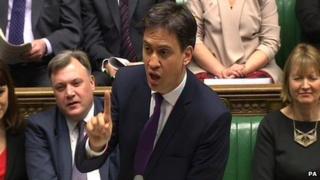 Prime Minister's Questions "subtracts from the reputation of politics", Labour leader Ed Miliband has said.
Mr Miliband told the BBC he was keen to try to find ways to change the tone of the weekly exchange but acknowledged it would be "incredibly hard".
His comments come after the House of Commons Speaker wrote to party leaders urging them to clamp down on "yobbery and public school twittishness".
John Bercow said that the tone of the debate was putting off the public.
In an interview with the BBC's Chris Mason for Radio 4's The World This Weekend, Mr Miliband said: "I think it was President Obama who said you can disagree without being disagreeable and in a way maybe that's a sort of lesson for Prime Minister's Questions."
However, he said that was "easier to state and harder to execute" in the "cauldron of the House of Commons".
"But we should always endeavour to do it and we should endeavour to be proud of the show we put on for the country, not giving people a sense that their kids behave better than we do," Mr Miliband added.
He said that "for all its ills" Prime Ministers Questions (PMQs) was "an essential part of our democracy".
During the interview Mr Miliband also addressed plans to make changes to Labour's links with the trade unions.
The Labour leader embarked on reforming the union link after a selection row in Falkirk last year when allegations of vote-rigging surfaced involving the Unite union.
Currently - under Labour's electoral college system - MPs and MEPs get a third of the votes to select a new leader, trade unions get a third and party members another third.
That system is to be abolished with every party member and those union members who donate to the party having an equal say.
Under Labour's plans, from the end of 2014 new members of unions affiliated to the party would have to opt in and pay a £3 fee to Labour before they got a vote.
Mr Miliband said the reforms represented the "biggest change probably since the Labour Party was founded as a membership party in 1918".
He said allowing people to have a "looser relationship with the party" than a full membership would open up politics to more people from "more walks of life".
"I think if you are for big ideals, which I think we are, the big causes like child poverty, like the cost of living crisis, like climate change, I think people will come to us and if you show the difference you can make, I don't think people are turned off the idea that they want to change things," Mr Miliband said.
"They do care about changing things... they're turned off political parties and that's what we've got to change."