Scam police threaten to arrest couple to protect them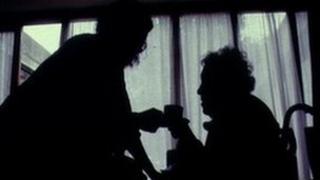 Police in Yorkshire threatened to arrest an elderly couple to protect them from fraudsters.
The pair, in their 80s, gave away their life savings but were then used by the criminals to launder UK victims' money.
The gang in India had promised they were due a bank rebate of £650,000 if they sent them "administration fees".
Over the course of three years and hundreds of calls, the couple sent £200,000 through Western Union and received nothing.
When there was no money left the gang changed tactics, posing as the UK's fraud reporting centre Action Fraud, pretending to be working to get some of their money back.
Det Insp Ian Wills, of North Yorkshire Police financial investigation unit, said the couple were highly intelligent, but they did not believe officers when they explained it was not Action Fraud, but the criminals who had spent hours developing a relationship and calling every day.
He said: "She had been told that this investigation needed funding and unfortunately sent them more money.
"She believed them rather than the real police - it was a remarkable piece of brainwashing."
The officers organised meetings with social services to assess the husband and wife's mental capacity, but they passed the tests easily and were deemed able to look after their own financial affairs.
The gang then changed tack, sending £10,000 to the couple, money that had come from other victims in the UK. The couple were then instructed to send that money back to India.
Over eight weeks the couple sent amounts of up to £500 91 times using different fake names and addresses in Western Union offices across Yorkshire.
This left the pair exposed to a charge of allowing criminal funds to go into and out of their account - effectively laundering a total of £40,000.
Officers say the speed of the couple's actions astounded them.
Det Insp Wills said: "Whatever happened we had to stop this. We had to put a warning shot across their bow. If I didn't know their history, they would have been arrested straight away."
The officers eventually used a warrant to search their property for details that might identify other victims, taking away documents and computers.
The pair were warned that if they did launder money again they would be arrested.
The couple's son told You and Yours: "They were always waiting for the telephone call. Holidays were cancelled, their car was sold."
Their daughter added: "They were changing the telephone number without telling us so we couldn't contact them. Then they sold the house without telling us. That was such an upsetting shock. It's just devastating."
The police and family believe the criminals might still be in touch with the couple but investigations are continuing.
You can hear more about the story on You and Yours on BBC Radio 4 at 12:00 GMT on 24 February.