Alps murders: No charges for al-Hilli arrest man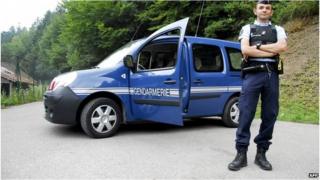 No charges will be brought against a man arrested in connection with the killing of a British engineer and his family, French prosecutors have said.
Saad al-Hilli, 50, and his wife Iqbal, from Claygate in Surrey, and her mother Suhaila al-Allaf were shot dead on a remote forest road in the Alps in 2012.
The 48-year-old man has been released from police custody in relation to the killings near Lake Annecy.
But he is still being investigated for alleged arms trafficking involvement.
French police arrested the man, believed to be a former policeman from the Haute-Savoie region, on Tuesday.
'Wartime weapons'
Prosecutor Eric Maillaud said he was released from police custody after investigators found "no direct link" between him and the events of September 2012 which also saw local cyclist, Sylvain Mollier, murdered.
The weapon used in the crime has not been found; neither has the helmet featured in an e-fit of a motorcyclist spotted near the scene nor the motorbike.
Mr Maillaud said the investigation into the murders was continuing.
"The searches and interviews of the last three days have not enabled us to establish a direct link between the events of 5 September 2012 and this man, a war weapons enthusiast, who looked very like the e-fit released on 4 November 2013 and who was near to the place where the incident took place when it happened," he said.
"However, the man will be taken into custody, overseen by the public prosecutor's office in Annecy, in connection with illicit trading in wartime weapons and ammunition found during searches by investigators, this illicit activity being carried out as part of an organised gang."
Family holiday
Mr Maillaud previously told journalists 40 wartime guns were found when officers searched the suspect's home, but not the murder weapon.
The bodies of Iraqi-born British citizen Mr al-Hilli, his 47-year-old dentist wife, and her elderly mother, who lived in Sweden, were found in their BMW. They were on a family holiday at the time of the murders.
Mr and Mrs al-Hilli's two young daughters, aged seven and four at the time, survived the attack. The older daughter, Zainab, was shot and beaten. Her sister, Zeena, was found traumatised but physically unscathed after hiding under bodies in the car.
Mr Maillaud has also confirmed a second man is being held, a friend of the man who has been released.
Last month, Mr al-Hilli's brother Zaid al-Hilli, also from Surrey, who was arrested in connection with the killings, had his bail cancelled after Surrey Police decided there was not enough evidence to charge him with a crime.
More than 100 police officers in France and the UK have been involved in investigating the case and about 800 people have been interviewed.