Magistrates should sit in police stations, report says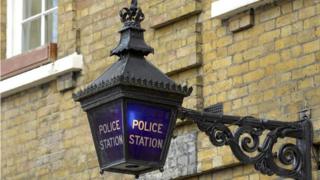 The government should allow magistrates to dispense on-the-spot justice inside police stations at peak times, a report by a right-leaning think tank has said.
Policy Exchange said magistrates should sit during evenings and weekends, as part of a set of proposals to speed up the judicial system.
It also suggested recruiting 10,000 new magistrates while closing more courts.
Justice minister Damian Green said the government was "looking at the role of magistrates".
It comes as Her Majesty's Court and Tribunals Service faces a requirement to cut its budget by 37.8% between 2012 and 2016.
'Weakens' punishment
The report says there are now more magistrates' courts in England and Wales than accident and emergency departments - 230 and 180 respectively.
However, the paper - titled Future Courts - says there is nevertheless a "two-month delay" from the time an offender is charged to when they are sentenced by magistrates.
It says the delay "weakens the power of punishments and means that the system does little to change the behaviour of offenders".
Instead, courts could be closed or merged, with magistrates on hand inside police stations and other community buildings to pass sentences "on-the-spot".
New "justice hubs", or larger courthouses with up to 50 courtrooms, could be built to serve major population areas, the think tank also suggests.
And it recommends measures to encourage younger, professional people to apply to be magistrates.
Max Chambers, author of the report, said: "There is no good reason for our criminal justice system to operate in such a leisurely fashion.
"Police courts would mean much swifter justice for low-level crime, reflecting the fact that if a punishment is to be meaningful and actually change behaviour, it has to be delivered very quickly."
'Maximise their role'
The justice minister said there were a "number of interesting ideas" in the report.
Mr Green said: "Magistrates are the cornerstone of our justice system. Their local knowledge and unique skills make them an extremely valuable part of our judicial process.
"We are already looking at the role of magistrates and starting to explore ways to maximise their role within the criminal justice system."
Richard Monkhouse, chairman of the Magistrates' Association, said the report mirrored many of the suggestions it had made three years ago.
However, he added: "One of the problems with having courts in police stations is public perception. Are the public going to believe that open and transparent justice is being served by having an apparent collusion between police and magistrates?
"We have no problem with the speed element at all, except that defendants need to know what their rights are, they need to be aware of the implications of the court case, so they need to have preparation and doing it that quickly may actually interfere with that."
On the subject of travelling magistrates, he agreed that authorities had to "think outside the box that is the courtroom" but he raised concerns about how that would work in rural areas.