UK storms: Army starts flood defence damage inspection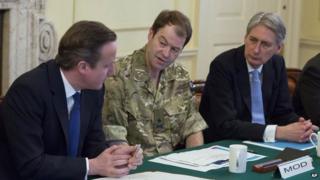 The military has begun inspecting damage to flood defences following the recent storms, the general leading military efforts to help has said.
Maj Gen Patrick Sanders, assistant chief of defence staff, said more "detailed assessment" would start "in the course of the next week or so".
Speaking as he left a government Cobra meeting, he said Royal Engineer divers had inspected a bridge in Somerset.
He added experts had also been up in a helicopter to look at coastal defences.
Earlier, Prime Minister David Cameron announced flood victims in England who had to leave their homes would be exempt from council tax.
'Significant crisis'
Cobra emergency committee meetings have been held nearly every day since the severe weather began in December, but have become even more frequent in the wake of severe flooding in parts of the UK.
The worst-hit areas have been the South West, including the Somerset Levels, and along the Thames, in Surrey and Berkshire.
More than 80 flood warnings remain in place across England and Wales, along with two severe flood warnings - meaning there is a danger to life - for the Somerset Levels, a coastal plain and wetland area.
Forecasters had warned of further heavy rain on Thursday but the Met Office currently has no warnings in place for already-flooded areas. It has one yellow warning - meaning be aware - for rain in Northern Ireland overnight and into Thursday.
Maj Gen Sanders told the BBC: "We're still responding to what is still quite a significant crisis for some parts of the country, with a lot of ground water flooding around.
"But we're thinking closely about how we can help local authorities get involved with recovery and we're on hand to provide that for as long as required."
It has already been announced that the Army is to carry out a "rapid inspection" of England's flood defences within five weeks to assess the damage left by the flooding.
Asked when this work would begin, Maj Gen Sanders said: "In some parts of the country we're doing that already. We have some Royal Engineer divers looking at a bridge in Somerset and as a result that should be able to be reopened.
"We're working closely with the Environmental Agency. There was a helicopter that flew today to look at coastal defences.
"And we will probably start that detailed assessment work in the course of the next week or so."
About 2,200 armed forces personnel - regulars and reserves - are helping the flood relief effort and a further 3,000 are on standby to respond within two hours, Maj Gen Sanders said previously.