Egypt warning: Britons told to avoid South Sinai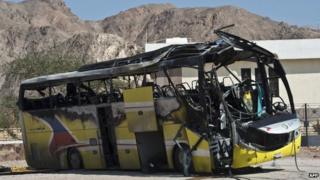 Britons are being advised to avoid the Egyptian region of South Sinai - except the holiday resort of Sharm el-Sheikh.
The Foreign Office said British nationals should avoid "all but essential travel" to the region.
An Egyptian bus driver and three South Korean tourists were killed when a tourist bus was attacked in Taba, South Sinai, on Sunday.
Advice for other parts of Egypt - which includes warnings against visiting several areas - remains unchanged.
Britons are now advised to avoid all but essential travel to the governorates of Beni Suef, Minya, Asyut, Sohag, North Sinai and South Sinai.
"We believe there is a high threat from terrorism and terrorists continue to plan attacks," the Foreign Office said in a statement.
"Attacks could be indiscriminate and occur without prior warning."
Tourists are also advised to "take great care" near buildings belonging to the government or security forces, which have been targeted repeatedly by Islamist militants since the military ousted President Mohammed Morsi in July.
The warning against travelling to South Sinai excludes "the area within the Sharm el-Sheikh perimeter barrier", which includes the airport and the areas of Sharm el-Maya, Hadaba, Naama Bay, Sharks Bay and Nabq.
"Enhanced security measures are in place to protect the Sharm el-Sheikh resort areas," the Foreign Office said.
"Routine security checks are being performed on entry into the airport and the police are carrying out vehicle checks in Sharm el-Sheikh. There were no violent protests in the South Sinai resorts during recent disturbances in Egypt."